Details

Hits: 7734
Does the Spirit Burn In You?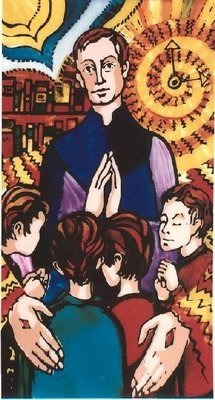 Why are you not careful, Edmund Rice?
The floor boards creak, the ceiling rafters strain,
holding hope in pummelling wind.
You lie awake, alone on straw above the stable,
refashioned now to serve a cherished dream.
Yet through the frosty panes the stars are blazing.
Be careful, Edmund. If your heart ignites,
what turbulent fire, Spiritfanned!
It will consume your dross and burn the waste
of ignorance, stir dormant Tara embers.
Perhaps it is some passing madness, or else
what seems impossible to me,
blazes with the possibility of God!
Hugh Sharpe cfc
..................................................................................................
Our Heart for Mission
Nano, Edmund, formed in your separate stories
in the heart of the one Lord,
you looked on the hard realities of your world
and saw the Spirit's boundless possibilities.
Living always closer to your people,
you learned to share the Spirit's urgent longing:
"that they may have life, and have it to the full."
Hearts broken open to the world's pain,
hearts afire for justice and compassion,
hearts free for service, joyful in welcome,
steadfast to endure,
you walked with firm steps, hands open
to receive life and share life,
learning to be sister, brother with each one
especially with the poorest, with the least.
At home in the Presence of the One,
your lives show forth a unity not clear
when you walked your separate journeys here,
a unity of vision and of heart.
Together teach us all who walk your way
how to live as brothers, sisters, now
in our world which yearns in travail still
to be re-born, one family in God.
Ralhael Consedine PBVM 1994