Details

Hits: 17084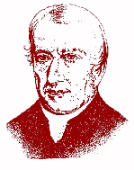 Information about the life of Edmund based on books by B. Garvan (1996), A. Houlihan (1997) and D. McLoughlin (2007) which you should consult for a much more complete version
Edmund Rice's Early Life in Callan
According to Houlihan,

Overcoming Evil With Good

, 1997: Robert Rice, Edmund's father, was a tenant farmer who rented about 175 acres of land from a friendly Protestant landlord, Lord Desart. In due course, as they matured, some of Robert's seven sons replaced the hired hands who helped him work the farm. Mrs. Rice, the former Margaret Tierney, was held in highest regard by the local people as being from one of Kilkenny's most loyal Catholic families. Robert and Margaret Rice owned a comfortable home, not luxurious, but far nicer than the huts or shacks of most Catholic families. The Rices' Protestant landlord appreciated their industry and their reliability to pay the high rent for such a large property. Thus he did not interfere with the practice of their Catholic faith.

The home Edmund knew as a youngster was one that rang with the banter of his six brothers and two step-sisters. It was a very happy home with plenty of good food, much of it fresh from his father's farm and lovingly prepared by his mother and sisters. Margaret Rice, the mother, was the heart of the family, and she delighted in each of her children and later on, in her grandchildren.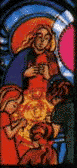 Their mother was the first teacher of the Rice boys. She taught them their prayers and she and her husband were excellent role models for the boys to imitate. Priests were always welcome visitors to the home but anyone who came to the door looking for a meal was brought into the kitchen and fed, so thanks to Mrs. Rice and the family hospitality, when it was time to leave, they were no longer hungry! Like many Irish families, the rosary was recited around the fireplace each evening and although the local chapel (parish church) was very simple, even crude, it was there that the Rice family worshipped and received the sacraments. The Catholic faith, loyalty to the Pope and to the church, and all the Christian values were both lived and taught in the home of Robert and Margaret Rice. It is no wonder that one of the younger boys, John, entered the Augustinian Monastery in New Ross, County Wexford and eventually became a priest or that Edmund would become the Founder of two Congregations of Religious Brothers.
The happy thoughts of his youthful days in Westcourt were some of the pleasant memories that Edmund evoked in his grieving after his wife's death. He was inclined to ask the question: "Why did this tragedy have to happen to me?" Being a man of great common sense and deep faith, he realized that there were many more blessings than sorrows in his life. He liked to reflect on the prayer of Job and to make it his own: "The Lord giveth and the Lord taketh away. Blessed be the name of the Lord".
Edmund loved his home at Westcourt and his hometown of Callan. In Edmund's day there were about 2,000 people who made their home in Callan. It was a town of narrow streets and thatched houses. It had known better days as in olden times it was a walled town of some importance. The majority of the inhabitants were quite poor and their hovels were comfortless. Most of the families were underfed and the children poorly clothed. The census reveals that about 200 of its people in the time of Edmund's youth belonged to the Church of Ireland, the established Church, but for the most part Protestant and Catholics got along fairly well with each other. This was rather unusual in Ireland at the time, but much had to do with the local Lord Desart who was quite tolerant and generous to his tenants, as compared to landlords in other parts of the country. There were two main streets in the town, one going from north to south, the other which intersected it, went from east to west. There was a town cross erected in the middle of the village. It stood on a square base, with a lantern at the top of the cross which was the only street light in the town. On market days the women gathered at this junction with their baskets of Callan lace, fruits, vegetables and other articles that were for sale.
Callan had the reputation of being a rough and tumble town. There was an old Irish saying about it that translated into English says: "Walk, Ireland, but run through Callan." The inference here is that the Callan natives liked a good fight and were quick to start one at the least provocation. No wonder it was known around Ireland as "Callan of the trouble".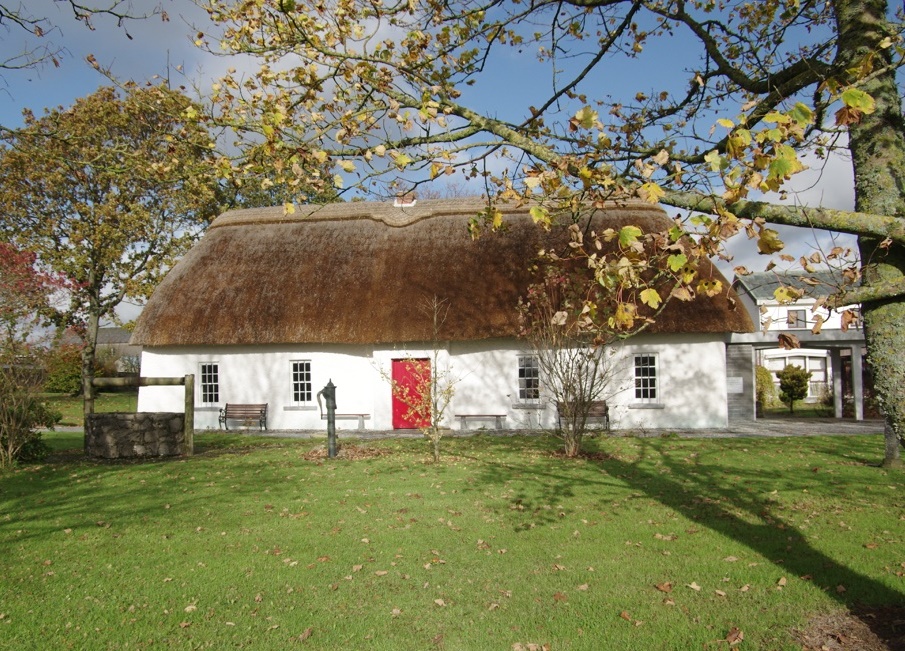 Westcourt, the family home and farmstead of the Rice family, was a peaceful place when compared to most of the houses in the town of Callan. The family home was quite large, although with nine children, Robert and Margaret Rice needed every bit of space to accommodate all of them. It contained four bedrooms, a parlour, a kitchen and a hallway. There were other farm buildings on the property and a number of small houses for the hired men and their families.
Both of Edmund's parents had combined their holdings of land at the time of their marriage in 1757. Their seven sons and two step-daughters would enjoy a comfortable and care-free life on this fairly large farm. Although the children did their share of chores as they advanced in age, there was also time for games and sports. Edmund's brothers and their friends were hurlers, the favourite Irish game of the period, and they often played this sport on one of the fields on their parents' property. "Here too he [Edmund] tested himself with boys of the locality in running, jumping, weight-throwing and in other virile exercises. He was a graceful horseman, and in the saddle he enjoyed a gallop on his favourite horse." (Quoted in W.B. Cullen). Edmund liked to fish in the King's River nearby, to swim in the pond on his father's property, to row a boat on the river or just to sit on the banks of the Kings River to dream and to relax.
Often enough there were games for the lads to enjoy as spectators—thrilling hurling matches—played on the Callan Green especially when Tipperary, Kilkenny or Waterford competed and local players were featured in a contest. The widower Edmund could also recall memories of when he was ten or eleven when he taught the Catechism "to the poorer children of his immediate vicinity,"... [as he gathered them around him in an empty shed at the farmhouse or in a corner of the yard.] Margaret Tierney provided these poor children with some welcome food, at the conclusion of the class". (ref. Cullen)
According to Garvan, Give to the Poor In Handfuls, 1996: Edmund Rice was born into such a locality in Callan, County Kilkenny, on 1 June, 1762. His mother, Margaret, had two daughters, Joan and Jane Murphy, by a previous marriage but her husband died. Later she married Robert Rice and they had seven sons of whom Edmund was the fourth. They farmed a large farm of almost 200 acres called "Westcourt." Actually the Rices, especially as Catholics, were relatively well-off. To this day the house in which Edmund was born, and lived the early part of his life, is standing and is a place of pilgrimage.
Edmund lived a happy childhood although he could not help but see the great contrast between the wealth of the rich and the utter destitution of the poor. There was plenty of food to eat in his home; he learnt many skills working on the farm, and he was able to play sports especially the game of hurling. The beautiful surrounding countryside afforded a wonderful environment in which to grow up. Margaret Rice, his mother, was ever kind and generous to the poor, and she would encourage young Edmund to invite poor boys home to play, and to learn from him something of their religion, for she instructed Edmund well. It has been said of Margaret Rice that she was a woman "of refined manners, of great strength of mind, and of unostentatious piety." Her influence on Edmund was enormous as the unfolding story of his life will show.
According to Blake, A Man for our Time, 2006: Edmund Rice's youth was unexceptional for the better-off Catholics of his time. Irish was the language of the home, with sufficient English to deal with legal and financial affairs. His parents were greatly respected in the community for their generosity, fair-mindedness and humanity. The children were fortunate in having parents whose personalities balanced so well - the father's shrewdness, sturdy common sense and practicality complemented the mother's warmth, sensitivity and compassion. Like any boy growing up in the Kilkenny countryside, Edmund fished, swam and played hurling.
Edmund's Education as a boy

According to McLoughlin,

The Price of Freedom

, 2007: After initial basic education of literacy and numeracy from his mother from whom Rice "owed not a little of his later prominence" (ref. O'Toole) the Rices employed itinerant schoolmasters for their children, one of whom was Patrick Grace, known as "An Bráithrín Liath", the Grey Brother, on account of his premature greyness. Patrick had earned a reputation as a good school master before his entry into the Augustinan order.

After leaving his Westcourt "school", Rice "received his education at Callan in the first instance and subsequently in Kilkenny". (Grace in Normoyle) At Callan, he either attended a school attached to the newly re-opened Augustinian novitiate, conducted by the same friar, Patrick Grace, or a "hedge school" in Moate Lane that fellow Callan man Br Francis Grace attended. Around the age of 15, young Edmund was sent for two years to an advanced academy at Kilkenny, sixteen kilometres north of Westcourt.

The academy that Rice Went to was probably the predecessor of the reputable Catholic school, Burrell Hall. The fee for commercial subjects was £20 per annum, a relatively large sum, which implied the quality of the school and the financial position of the Rice family. It also indicated the promise Edmund must have exhibited for this sum to be invested in him. The previous three brothers appeared not to have had such an education. (see McLoughlin pp12-16)
Edmund enters business with his uncle in Waterford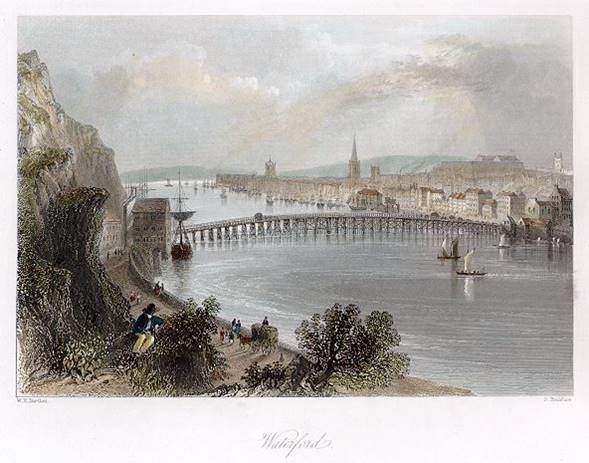 According to Garvan,

Give to the Poor In Handfuls

, 1996: At the age of seventeen Edmund was sent to Waterford, a port city, to become an apprentice to his uncle Michael Rice who ran a business supplying ships with everything needed for long trips at sea. Quickly Edmund learnt the tricks of this trade and took to the business side of things. He had an eye for detail and a wonderful way with people. Waterford was the second largest port in all Europe at this time, but this attracted many poor people from the countryside, driven from their land, and hoping to gain some kind of livelihood even if it was from begging in the city.

Edmund had to adjust to his new life in Waterford City now that he was earning money and having a good deal or freedom. It seems he was not always exemplary, for it was reported of him on a visit back to his home in Callan, that an old poet, James Phelan of Coolagh, met young Rice after Mass in the parish church and chided him for some misconduct in the church. Edmund was told in no uncertain terms that his attitude in the House of God was unbecoming of a Catholic. To his credit Edmund took this admonition to heart, and the remarks had a very steadying effect on him. And rather enigmatically Maurice Lenihan. editor of The Tipperary Vindicator, wrote of Edmund at the time of his death, and after he had very generously praised him: "We believe that Mr. Rice's early life had not given promise of that religious earnestness which he (later) began to display". It would certainly be an exaggeration to say that Edmund went through some kind of "conversion" at this stage of his life.

According to Houlihan, Overcoming Evil With Good, 1997:

Young Edmund Rice in the city of Waterford was to become one of its most successful and respected citizens. It did not take him long to set his roots down in the city that would be his home for the next 65 years. Fresh from his training at the academy in Kilkenny, Edmund was welcomed by his uncle Michael Rice who had two sons of his own and who treated his nephew as if he were a third son. Edmund threw himself into the work at his uncle's provisioning company and Michael Rice was quite happy to have his help in managing his prosperous concern, especially since neither of his sons was interested in this type of work. Edmund's organizing skills and his ability to work well with others resulted in expanding and making many improvements so that profits continued to mount. "Soon Edmund became a familiar figure in his uncle's stores in Baronstrand Street, the warehouses on the quay, on board ship, or as he rode on horseback to buy cattle and farm produce to stock the ships in Waterford Harbour. He quickly won his uncle's confidence, and a deep affection grew up between them. The business thrived." (ref. Blake)

At Westcourt, his mother and father were proud of their son the young merchant. They knew that his uncle was very satisfied with him and that recommendation was good enough for them. In September, 1787, Mr. Robert Rice, Edmund's father, drew up his will and to the amazement of no one in the family, he appointed Edmund executor. This made Edmund the legal head of the family. Robert Rice knew all of his sons very well and considered Edmund to be the one to take charge of things when he had passed away. The will provided for his 'dearly beloved wife Margaret', that she would have the home at Westcourt. There were provisions for each family member. Land records show that Edmund purchased his brothers' shares of the land in due course. "It was a measure of the trust his father placed in Edmund, that he was made executor of the will. This was a delicate matter and demanded efficiency and integrity." (ref. Normoyle) A few years later Edmund would also administer the last will of his youngest brother, Michael, who died in Waterford. With good reason, his parents and his siblings had confidence in their son and brother.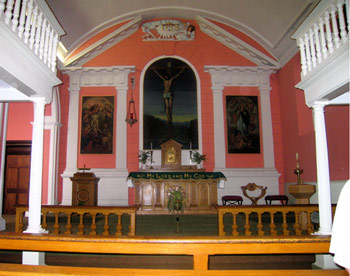 But there was much more to Edmund Rice than business acumen. He was a devout Catholic layman who made no secret about his love for the Church and all it stood for. His daily routine began with attendance at Mass in St. Patrick's chapel near his home, and even though it was quite uncommon among Catholics of the day, he frequently received communion. He belonged to a group of Catholic young men, most of them fellow-merchants, who were devoted to developing their spiritual lives and to performing good works. They met on a regular basis and committed themselves to works of charity, especially among the abjectly poor of the area. Edmund soon found himself involved with several other local agencies that provided social services to people in need. He used all of his business skills to see to it that the poor would receive whatever kind of aid they needed. He had a special interest in the homeless, in orphans, in widows, in anyone who needed assistance of any kind. He took on the role of advocate in upholding the legal rights of those who were not able to fend for themselves in a society that looked down on Catholics, especially the poor. Much of his free time was spent in visiting old folks, in seeing that children had something to eat, in obtaining clothes and shoes for people who could not afford them and just by being available to individuals who were down on their luck. A good example of this is found in testimony given by Mr. Nicholas Whittle. He had two great-grand-aunts, who as children were left orphans. Their parents had named Mr. Rice to look after some money set aside for the education and the support of their daughters. Edmund Rice agreed to be their guardian and he took his duties seriously. The bank in which these funds were lodged failed. Thus the girls' income was lost. "Mr. Rice made good the loss himself from his own private funds and had the Connolly girls reared and educated at his own expense." (ref. Normoyle)
Although in the early 1800's Waterford city was experiencing a wave of prosperity it had never known before, it also had a slum area which was home to many of its people and where living conditions were the lowest of the low. Jobs were scarce for Catholic men. What little income that did come their way was often spent in the pubs and grog shops. A professional traveller to Waterford at this time commented: "Whiskey drinking prevails to a dreadful extent in Waterford. There are between two and three hundred licensed houses; and it certainly does seem to me that among the remedial measures necessary for the tranquillity and happiness of Ireland, an alteration in the licensing system is one of the most important." (ref. Inglis)
Misery, near starvation and an acceptance of the fact that this was their lot in life was rampant among many of the poor. They felt hopeless and believed that neither the government nor the well-off class of people, had any interest in their welfare. These were the prevailing sentiments of Waterford's massive population of unemployed husbands and fathers, of its depressed wives and mothers and especially of its innocent victim-children. These Catholic poor could not even look to their church for material help as its bishops and priests were as much rejected by the government and by the ascendancy (the privileged Protestant citizens) as the rest of the Catholic population was. Mr. Edmund Rice and his fellow young merchants of the parish were exceptions to this line of thinking in Waterford at the end of the 18th century.
At this period of his life, Edmund Rice seemed to be living two lives. By day he was in his working place pouring all of his energy into managing his uncle's firm. After hours, he was equally occupied, this time being the agent of the homeless, the rejected, the widows, orphans, street urchins, debtors or any person who sought his help. He obtained and delivered food, bedding, fuel and medicine to the needy and tried to find lodgings for those who had no homes. He became a member of several other charitable committees in order to obtain funds from various sources to support families or individuals who had no other means at their disposal. Once he joined these committees, he usually became an officer so that he could use his influence to urge the societies to increase their efforts. At times he would challenge the banks and trusts that were not prompt in paying interest to the beneficiaries of wills — usually homes for orphans, for senior citizens or other impoverished people. He became an expert in the legal procedures needed to expedite payments to such causes.
Edmund Rice was fast becoming one of the leading citizens of Waterford. His business associates respected him for his brilliant management, for his new ideas and for his integrity in all of his affairs. In the parish he was regarded as an exemplary Catholic layman. The bishop and priests relied on him to advise them in financial matters, especially in regard to real estate. The poor looked to him as a friend and benefactor who worked tirelessly for them and their needs. He was befriended by many of the best families in Waterford and he was able to convince some of them to join him on the several committees to which he belonged as they were always in need of donations and volunteers. One of his closest associates, Brother Austin Dunphy, tells us that "Edmund Rice was one of the very few persons who...was allowed to pass unchallenged at all the military posts in Waterford, Carrick-on-Suir, Clonmel, Tipperary and Limerick." (ref. Fitzpatrick) The obvious inference from this statement is that Edmund Rice was so well known, trusted and respected at the military posts, because of his business contacts with them supplying meat, butter, cattle, sheep, oats, hay, straw, etc. that he was most reliable and consequently one of the most trusted of civilians who had access to the military authorities.
For entertainment Edmund enjoyed Irish dancing, songs and music that were traditionally a part of the culture. It is recorded of him that on occasional Sunday afternoons, in the company of some of his associates, Edmund took a stroll from the city out to the suburbs to a place known as "the Yellow House Inn." He enjoyed meeting his friends there and was especially happy to hear his favourite music and to join in the choruses or to participate in one of the dances or reels. A Thomas Moore song that he liked to sing "Oh! Had We Some Bright Little Isle of Our Own" was one of the popular songs of the day. Years later as a Christian Brother "Edmund had a great fund of stories that enlivened community recreation and a droll sense of humour that brought many a laugh. Sometimes, especially on festive occasions, the brothers had a concert when Edmund would join with them in singing his favourite songs from Moore's Irish Melodies?" (ref. Normoyle)
According to McLoughlin, The Price of Freedom, 2007: It was in Waterford, then, that Rice made good, apprenticed to his Uncle Michael as a victualler, part of a merchant-class in which Catholics were well represented... While Uncle Michael apprenticed a number of youths such as Bridget Cleary's father, it appears that his two sons Patrick and Robert displayed little talent for their fathers business.
Edmund was constantly travelling From fairs and markets negotiating the sale of pigs and cattle from farmers to fulfil his contractual obligations for the British military. He walked through all the counties on Munster and beyond it, covering as many as possible of the four and a half thousand fairs that were held annually at the time. It is not surprising that later in 1818, during Rice's conflict with Bishop Walsh, Rice's clerical enemies described him as "this man sometimes was a dealer in cattle and a common butcher in the streets of Waterford."
It is accurate to conclude that the intermittent hostilities England pursued with republican France and its need to provide for garrisoned troops throughout Ireland meant prosperity for the young victualler. Indeed, there were over 20,000 soldiers in over 100 barracks in the country during this time. (see McLoughlin pp19-26)
Edmund marries Mary Elliot

According to Garvan,

Give to the Poor In Handfuls

, 1996: After some years in Waterford Edmund met Mary Elliott whom he came to love deeply. She came from a well-to-do family. Edmund asked Mary to marry him and in 1785 they were united in matrimony. They lived in the part of Waterford called Ballybricken. All this time Edmund's business experience was growing and he was outstandingly successful because of his intelligence, acumen, integrity, qualities of leadership, and especially his ability to get on with people. Mary shared in Edmund's happiness, the more so because she could also rejoice in his continuing compassion for the poor. But their happiness was not without its sadness because Edmund's father died in November, 1787. Interestingly, Robert Rice made Edmund an executor of his will even though he was the fourth son.

According to Houlihan, Overcoming Evil With Good, 1997: About six years after arriving in Waterford, Edmund had fallen in love and prepared for marriage. Little is known of the girl he married that year. His wife was "a Miss Elliott, a young lady from a well-to-do family. Their married life was short. ....According to family tradition Edmund's wife died late in her pregnancy. Their daughter, Mary, was born prematurely and never developed normally." (ref. Positio) The only reference to Mrs. Rice's death was reported in newspapers for January 17, 1789.
Tragedy strikes Edmund when his wife dies

According to Garvan,

Give to the Poor In Handfuls

, 1996: In 1788 Mary was expecting a baby. Both she and Edmund were keen horse-riders and during her pregnancy Mary suffered some kind of fall from a horse. In January, 1789, she gave birth to a daughter but died as a result of complications. Edmund called his little daughter Mary after her mother, but his heart, broken over the death of his wife, was further broken because little Mary was in some way disabled.

While the exact circumstances of these happenings are still not known to us, we do know that Edmund's grief (he was only 26 years of age) was bitterly distressing. Years later he revealed this when, in writing about Mary Kirwan, recently widowed, he was able to identify with her, saying he knew she was in "the dregs of misery and misfortune".

Edmund decided it was better for him to move from Ballybricken to Arundel Place to help him forget the circumstances of his life with his wife, to place him nearer his business, and to enable his step-sister, Joan Murphy, to come to live with him to care for young Mary. Edmund's love of his daughter was one of the most significant factors which brought about an entire change in the orientation of his life. He became even more sensitive to the plight of the poor whom he increasingly loved; he joined a spiritual association of men in Waterford; and he grew increasingly uneasy with the wealth he was acquiring through his business.
Edmund's experience of fatherhood - rearing his daughter Mary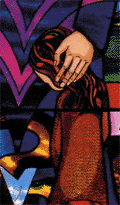 According to McLoughlin,

The Price of Freedom

, 2007: Mary Rice was born in January 1789, when Rice was 26 years of age. Unfortunately, "Mrs. Rice was delicate, and she died of a fever after the birth of the infant"... It was obvious that Rice, as a businessman, could not care for his infant daughter alone. The first and most likely choice was for her to be handed over to her maternal grandparents, since in Ireland at the time grandparents were expected to take a special interest in female grand-children. The same is true for males and paternal grandparents. Not only did this not occur, but also there is a complete absence of any information about Rice's in-laws.

The second choice would have been to send young Mary to be raised with Rice's relatives in Westcourt. Rice's mother was there with her eldest son Thomas. Similarly, Rice's second older brother Patrick, whose family was childless, seems to have been particularly close to him and in the light of future events would have been willing to incorporate Mary into his family at this time. Indeed, Patrick eventually did, much later, have Mary Rice as a family member.

The last option and the least likely for a widower without older children was to choose to raise the child himself. This is what Rice did. Consequently, soon after his wife's death, Rice left his Ballybricken residence and moved to 3 Arundel Lane, adjacent to his business in Baronstrand Street, near the quay. Unable to care adequately for his baby daughter as a sole parent. Rice's spinster half-sister Joan (Murphy) also moved into the Arundel Lane residence as housekeeper and became mother to Mary for at least the next ten years…

No doubt, the single father shared with Joan the feeding, bathing and toilet training of young Mary, guided her first tenuous steps at walking and encouraged her experimenting with talking. Did he especially treasure that day when Mary attempted to call him 'Dada'?...

Since the family residence was adjacent to the business, Rice probably shared most meals with his daughter. No doubt, as a toddler, she cheekily reconnoitred and negotiated her dad's shop and soon became the darling of many of his clients. At night. like all children, she would have loved to listen to her dads lullabies and no doubt became enraptured by his embellished storytelling, for he was fond of jokes and had a great sense of humour. Indeed. Rice was later to earn himself a reputation among his confreres as a raconteur of note, and with a fine singing voice he liked to use.

Like so many educated fathers, Rice would have introduced Mary to reading in Irish and English and basic counting and arithmetic and of course, her prayers. Would not have Edmund told her about her own precious mum, who was now with God and the Blessed Virgin and the angels, and did not both of them, before young Mary closed her eyes at night, pray to her mum to intercede for them both?

Likewise, living in the middle of the docks, Mary was exposed to an exciting and contrasting world of ships and characters from every nationality that enriched her beyond book learning. No doubt, the young dad regularly had her perched on his shoulders explaining to her the many and various dynamics and oddities characteristic of bustling, commercial Waterford…

Is it entirely coincidental that during the early 1790s, while Rice was depthing the spiritual side of his life and simultaneously engaging in other charitable initiatives, the compassionate Father, Edmund Rice, continued the tradition he had established with his young wife of inviting into the home 'the grown and wild youths on the streets'? But this time 'he took boys into his own house [Arundel Lane] and began to teach and instruct them'. 'Our family tradition has it that Edmund Rice, even when in business, took a big interest in the poor boys. He met them, advised and encouraged them, and instructed them in religion and citizenship' (John Power in Normoyle). No doubt all this was done with the wide-eyed Mary sitting on Joan's lap watching her dad becoming 'a father and mother to other children?

It is likely that the incomparable experience of being a loving father to his 'little girl' was for Rice a contributing catalyst for a brotherhood, which would likewise aspire to provide a wholesome, liberating, life-giving education. This was the type of education, he had been providing for his own "delicate daughter" who was thriving on it. Moreover, Rice himself was thriving on being a dad. (see McLoughlin pp182-186)
Providential stay one night at a Country Inn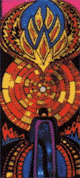 According to Garvan,

Give to the Poor In Handfuls

, 1996: Edmund may have been attracted towards rnarrying again, as his mother did, but God was calling him in another direction. Years later he told the Presentation Sisters in Waterford something of the circumstances which led him to devote his life to the service of God. One night, on one of his business trips, Edmund stayed at an inn and shared a room with a Friar. He was awakened during the night by the prayer of the Friar who spent practically the whole night praising God. In this incident Edmund saw the finger of God and asked himself seriously whether he should live like this Friar and give up his business. He had experienced how fragile can be the best joys of this World. So he resolved to give himself more to prayer and to lead a Monks life of retirement and contemplation.
Years of spiritual growth and discernment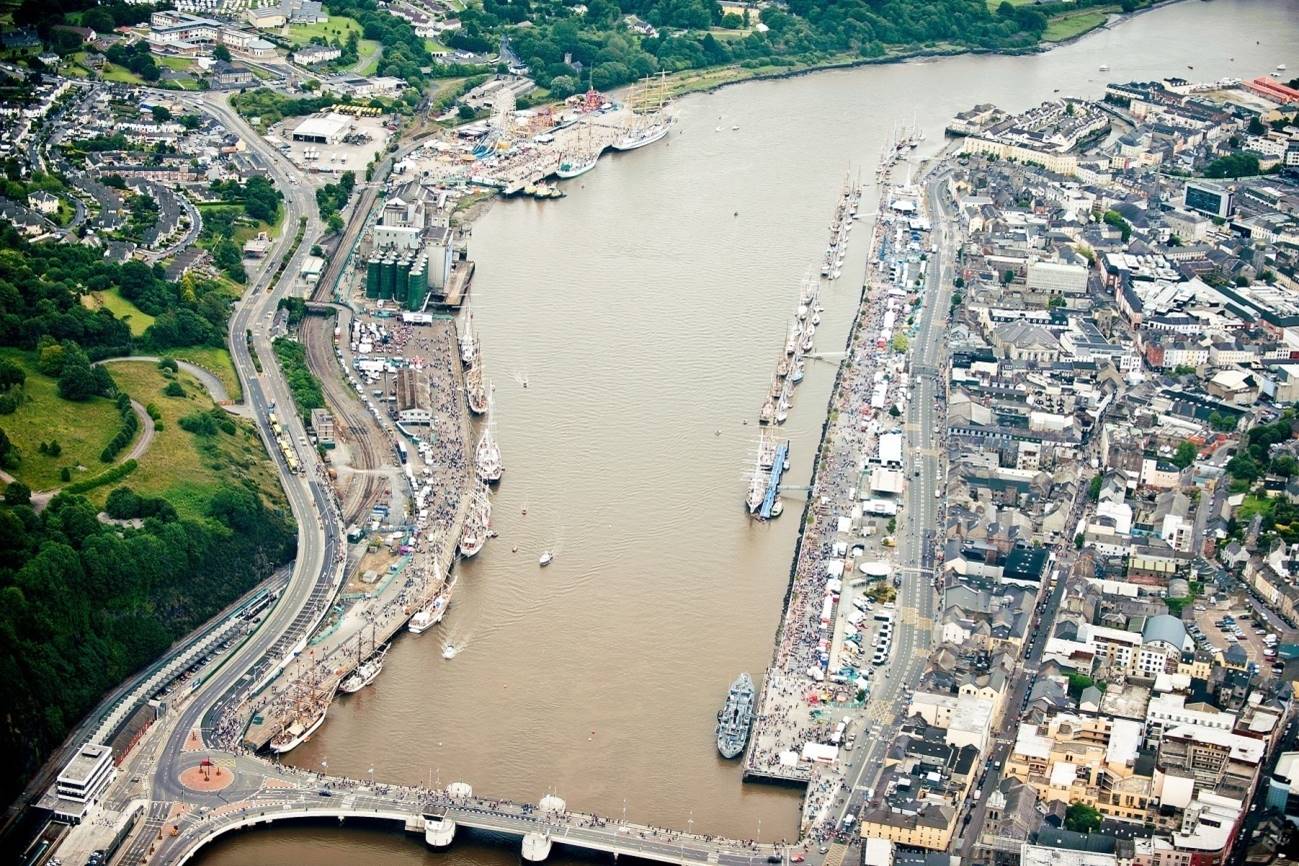 According to Houlihan,

Overcoming Evil With Good

, 1997: Being a young man without a wife and with an infant who needed extraordinary attention and care, he was forced to re- think his options for the years that lay ahead. He did not panic, nor did he lose confidence in a provident God. His name appears on the list of subscribers that paid for a special edition of the bible which was published in 1791. Not only did he purchase a copy of this bible, but he read it and studied the scriptures on a regular basis. He drew up a list of passages from the bible that had a special application to his life as a merchant and he recorded them on the fly leaf of the sacred book.

The texts he noted on the frontispiece, reveal how the care of the poor, especially in bringing them some justice in their wretched state, Was uppermost in his mind:
• "Give to the one Who asks of you, and do not turn your back on one who Wants to borrow." Mt. 5: 42.
• "But rather, love your enemies and do good to them, and lend expecting nothing back; then your reward will be great and you will be children of the Most High, for he himself is kind to the ungrateful and the Wicked." Lk. 6: 35.
• "He who oppresses the poor to enrich himself will yield up his gains to the rich as sheer loss." Prov. Z2: 16.
• "You shall not demand interest from your countrymen on a loan of money or of food or of anything else on which interest is usually demanded." Deut. Z3: Z0.
• "If you lend money to one of your poor neighbours among my people, you shall not act like an extortioner toward him by demanding interest from him." Exod. 22: Z4.
• "Who lends not his money at usury and accepts no bribe against the innocent." Ps. l5: 5.

According to Garvan, Give to the Poor In Handfuls, 1996: From a close study of these short passages, one can get some insights into the soul of Edmund Rice. One of them in particular seems to point to his present situation as a Christian merchant: "Lend without any hope of return." (Luke 6:35). This quotation also must have had some implications on his final decision to sell his thriving firm in order to give his life to the poor.

During this period of Edmund's life it was said of him that "the poor were the chief object of his attention - in fact this wonderful sympathy for Gods poor was one of his most distinctive characteristics." Around the wharves of Waterford he saw many a sad plight among the poor. One particularly sorry sight was "Black Johnny", a black slave boy, whom Edmund saw on a ship moored at the quay. He purchased the youths freedom from the captain and sent him to the Presentation Sisters to be baptised and educated, subsequently providing him with a small house. "Black Johnny" embarked on a successful pig-rearing project, became a noted personality in the city and, when he died, was widely known for his goodness.

Edmund was described as "a tall, good-looking man who took, even as a businessman, a big interest in poor boys. The people looked upon him as a gift from God. He had many friends and admirers, and was reverenced and respected beyond all others in Waterford."

Tadhg Gaelach Ó Súilleabháin was a poet of irregular habits but a regular visitor to Edmund's home in Arundel Place at this time. Edmund first met Tadhg at the Yellow House Inn, a centre for music and poetry, a few kilometres from Waterford. Through Edmund's influence Tadhg's life was transformed. Before Tadhg died on the steps of the Cathedral in 1795 he had published, with Edmund's help, a volume of deeply expressive poems. Indeed, with Edmund practical kindness and spirituality went hand in hand.

According to O'Dwyer Towards a History of Irish Spirituality, 1995, pp. 215-217: Tadhg Gaelach Ó Súilleabháin (1715-95) was the most influential religious poet of the 18th century in Ireland. His contribution to the piety of the faithful in his own and succeeding generations cannot be stressed too strongly. The fact that his poems have seen at least 40 editions puts him poles apart from any other writer. He seems to have undergone a deep spiritual conversion around 1767. Most of his religious poetry was composed around Dungarvan, Co. Waterford. His poem "A Mhór-Mhic Chailce na soillse aoibhinn" is considered to be one of the best religious poems in Gaelic literature. Some of his poems were hymns sung to well-known Irish airs. His hymns were a consolation, joy, source of counsel and spiritual direction for the ordinary people. There is good reason to believe that he died in the cathedral in Waterford while saying his prayers.

According to Garvan, Give to the Poor In Handfuls, 1996: Through his move to Arundel Place Edmund became more closely associated with the ]esuits who ran the parish of St. Patrick's nearby. Frequently he was to be found in their Church in prayer before the Blessed Sacrament. His spiritual reading included the best writers of his day. Slowly Edmund was being prepared for the Work God was calling him to do.

With the deepening of his faith, Edmund sought the company of a small group of men who, like himself, felt attracted to a more profound Christian commitment than that practised by the devout middle class. Later in life he would recall with gratitude the inspiration received from the support of this little group, drawn together by the common aim of spiritual growth. It was quite usual for Edmund to gather a group of men to recite the Rosary aloud in the evening.

According to Houlihan, Overcoming Evil With Good, 1997: From his youthful days in Callan, Edmund had a great love for the Eucharist and for making visits to the Blessed Sacrament. When he moved to Waterford, Edmund would drop into one of the more or less hidden Catholic chapels in order to pray before the tabernacle and then he often went in to see the priests if they lived nearby. The Waterford priests at St. Patrick's and Father John Power at St. John's, became close friends of Edmund Rice. Father Nicholas Foran was another good friend. Bishop Lanigan and later on Bishop Marum of his home diocese of Ossory and Bishop Hussey of Waterford were not only advisors of Edmund but close friends as well. From time to time he would discuss with them his desire to know what God's will was for him and they encouraged him to continue praying and doing his works of charity. They assured him that the Lord would help him to find the answer to his questions about his future.
A woman challenges Edmund to look through the window

According to Garvan,

Give to the Poor In Handfuls

, 1996: The idea of joining a religious order had been maturing in Edmund especially since his experience with the prayerful Friar in the country inn. But the added desire in Edmund actually to found an order which would uplift poor youth through education took longer to mature. A number of traditions have been passed down to us around a significant incident of Edmund with a woman in Waterford. This encounter prompted him to move into education.

One account narrates that to his step-sister, Joan Murphy, "he expressed the intention of going to Europe for this purpose (of entering a monastery). She said: "It would be better for you to stay at home and devote yourself and your money to educating and instructing Irish boys" The tradition of the Brothers at Mount Sion regarding this incident is given to us by Brother Regis Hughes who wrote in 1911: "He was determined to give up everything for the love of God and become a lay-brother among the Augustinians in Rome of which Order his brother John was then a member." To this end Edmund "made known his intention to a woman in Waterford whose advice he used to take on all important matters. She, evidently inspired by the Holy Spirit, asked him if it would not be better to do something for Waterford similar to what Nano Nagle had first done for the poor girls of the city of Cork. The suggestion sank deep into the heart of Mr. Rice". The good advice of this lady (whoever she was), uttered at a favourable opportunity, caused Edmund to make up his mind to devote himself and all he possessed to the project of educating poor youth.

According to McLoughlin, The Price of Freedom, 2007, (pp203-206):

A brief diversion is warranted concerning the assertion that Joan Murphy, Rice's half-sister, was the woman whose opinion was supposedly influential in his decision to found a teaching brotherhood… Rice himself relayed to the Waterford Presentation Nuns the influence of a "Waterford lady" on his initial decision making. In fact, an analysis of interview transcripts indicates that in addition to the Presentation Nuns' version, there are at least eight separate sources commenting upon Rice consulting a woman or friends…

It is simplistic to think that Rice's religious vocation was cavalierly dependent upon the urgings of the Waterford lady, as some of the above quotations imply. They suggest that he was blind to the ravages of the poor around him and it was the Waterford lady's provocations which sensitised him to that reality. While no doubt Rice did seek counsel from the Waterford lady, it seems reasonable to conclude, that the content of this counsel would have concerned the prudence of his incipient ideas and the implications that these would have on his immediate family. Rice was noted for his exceptional reserve and privacy and it would have been contrary to his nature to share outside the family circle how the personal tragedy of his wife and his own compassion for poor children were driving him to action. Consequently, it seems probable that the Waterford lady was Joan Murphy, his step-sister, the woman with whom he shared home for near on thirty years.

Rice's mother had given birth to seven boys in close succession and clearly the two older half-sisters held responsibilities with the mother in caring for their younger brothers. Joan Murphy had considerable experience in child-raising before she came to live in Arundel Lane as home-maker to her brother. As a result, there was a long-established intimacy between brother and sister. Living in Arundel Lane, Joan witnessed and shared in Rice's personal traumas. At this time she probably was his closest friend. It is unlikely that the very private Rice would have gone beyond the family for intimate consultation. Likewise, he would have gone to someone whose judgement he valued and who would have been influenced by the implementation of his tentative plans. In addition to her family position and her wisdom of years and experience, it is to be remembered that she had invested £500 in Rice's business.

For these reasons, Joan seems to be the most likely Waterford lady who would have acted as his personal confidante in his decision making. This matter is inconclusive and clearly open to debate. Nevertheless, it should be recalled that this consultation occurred sometime in 1793 or 1794, for, supposedly having gained Joan's positive counsel, Rice sought ecclesial advice from Bishop James Lanigan in 1794.
More steps along the way

According to Garvan,

Give to the Poor In Handfuls

, 1996: In 1796 Edmund wrote to Pope Pius VI to ask his advice about his growing desire to found an order of men to care for and educate poor boys. The Pope replied, greatly encouraging Edmund in his enterprise. However, the time was still not fully ripe for Edmund to make his move. "But we must wait for God's time" is what Edmund wrote later in a letter to a Presentation Sister, and even now he was living out that advice for himself.

In 1795, on the death of his uncle Michael. Edmund inherited the business which was in a thriving condition mainly due to Edmund's leadership. Edmund was made an executor of his uncle's will, and he left Edmund money to distribute in charity at his own discretion. Still Edmund continued to care for the poor. He was either the founder or at least a member of a group of men, like a modern-day St. Vincent de Paul Society who went around and cared for the poor and destitute in their homes. Probably by this time Edmund was quite a wealthy man.

Bishop Hussey of Waterford in 1797 wrote a pastoral letter condemning in no uncertain terms the way poor Catholics were lured from their faith by the promise of financial and educational rewards for their children if they became Protestants. The reaction of the authorities was to cause the bishops expulsion from Waterford, but in Edmund it further deepened his resolve to do something significant and effective to help right the wrongs of poor Catholic boys.

Edmund was fearless in life-threatening circumstances, and even ran the risk of being imprisoned himself He saved from execution the husband of his half-sister, Jane Murphy. His name was John Rice and he came from Newlands, County Kilkenny. John was a strong nationalist and was a rather picturesque figure who had incurred the enmity of the army. In 1798 yeomen surrounded his home at midnight and, not having found him, set fire to the house, and then traced him to Waterford. Edmund hid him in his own home ~ a capital offence — until a suitable opportunity arrived to smuggle him in a barrel aboard a vessel bound for Newfoundland.

1798 saw the coming of the Presentation Sisters to Waterford. Edmund was very active in helping their advent to that city. He acquired for them land on which they could build a convent. He invested their dowries to ensure sufficient interest to provide for the three Sisters, and he personally endowed the first postulant received in Waterford.

These were years of discernment for Edmund as he tried to sift just where the Spirit was leading him. To re-marry, to carry on in his business while still helping the poor, to found an order to help overcome, through education, the injustice meted out to the poor, especially through the programmed ignorance being enforced, all of these good possibilities were tested in his prayer and in his energy for life. And over all of these was his desire to care properly for his daughter, Mary. No wonder his spiritual life deepened as prayer, sharing in the daily Eucharist, reading of the Bible and spiritual books, increased help to the poor in many ways, all intensified over this period of his life, and brought him to an ever deepening relationship with his God.
Philosophies of Education at the Time of Edmund Rice
According to McLoughlin,

The Price of Freedom

, 2007:
The conservative social control view
Around Rice's time, there still lingered the belief that education for the lower classes was a waste of effort and, moreover, a decidedly dangerous activity to promote. Indeed, some construed it to be an assault on the divine will and the stability of the kingdom: "The Almighty has willed that each man should be content in his station, because it is necessary that some should be above others in this world"

In France in 1763, King Louis XV's Attorney, Louis-Rene de Caradeuc, criticised the education provided by the Jesuits and particularly the De La Salle Brothers because they encouraged middle class pretensions among the lower classes:
"They teach reading and writing to people who should never have learned more than a little drawing or how to handle tools. The good of society requires that the lower classes' knowledge should go no further than their occupations. No man who can see beyond his depressing trade will ply it with patience and courage."

Consequently, this educational philosophy suppressed within the poor any aspiration towards upward social mobility, convincing them to be content with their station in life. Failing to honour such a clearly evident, God-given axiom was often thought by the proponents of this conservative philosophy to be the ultimate reasons for the horrors of the French Revolution and certainly in their view was the mid-wife for the tyrant Napoleon Bonaparte…

Consequently, it is not surprising that the view that educating the poor was a futile endeavour was hurled at Edmund Rice by a friend and colleague, at the very beginning of his education endeavour. One prominent Protestant who resided in the then No.1 New Street, a Mr. Compton, a friend and admirer of Mr. Rice, thought he would reason with him on What he considered a most foolish project. He told Mr. Rice that he was but wasting his time on such a hopeless task and that he could see no chance of success for him besides a man of his business ability should not be squandering his energies on such work; that if the boys carried out the behests of their clergy in religious matters what more did they want? Why education for such
as these? This was no callous question from Mr Compton, for, from a late eighteenth century perspective, poor children were scarcely recognised as human beings. They had few rights and legally were seen primarily as their parents' chattels, which they could use (or abuse) at
whim.

Moreover, even innovators thought of education of the lower classes as a distinct attack on social progress. Isanibard Brunel, the civil engineer responsible for the construction of much of the nineteenth century British railway system, offered the following view on the education of the poor.
"I am not one to sneer at education, but I would not give 6d. in hiring an engineman because of his knowing how to read or write. I believe that of the two, the non-reading man is best. If you are going five or six miles without anything to attract your attention, depend upon it you will begin thinking of something else. It is impossible that a man who indulges in reading should make a good engine driver; it requires a species of machine, an intelligent man, a sober man, but I would much rather not have a thinking man."

The Liberal social control view
While the conservative social control philosophy was shared by a minority of educated persons, the liberal social control view was far more popular among politicians, clergy and the educated classes. Such a philosophy advocated education for the lower classes in order to make them satisfied and contented with their lowly position in society, thereby generating national stability…

Ironically, liberals, like conservatives perceived the French Revolution as providing a rationale to buttress the legitimacy of their perspective… Clearly, something had to be done to abort the gestation of such a calamity in the British Isles. For the English politician, Britain's Achilles' heel in the pursuit of national political stability was Ireland: "At the end of the eighteenth century poverty [in Ireland] was widespread. It is estimated that over two million people were at near starvation level, and it is on record that that destitution was widespread in the country for about thirty out of the fifty-two weeks of the year. There was no legal provision for the poor, the aged and infirm; they could only rely on charity" (O'Connor cited in McLoughlin)

Ireland was a tinder box inviting a careless spark. Consequently, it was not surprising that Chief Secretary for Ireland, Thomas Orde, in 1787 publicly advocated in parliament that the government apply education as a social control. For him, educating the lower classes was strategic, because as "rude as these materials may be, they are still the foundation of the superstructure of the state". As a result, it was believed that education should focus on teaching the poor their duties and responsibilities towards society, their respect and obedience to lawful authority, as well as to provide the incentive to those who are frugal, diligent and God-fearing to attain a rank "superior to that which fortune has allotted them" (Orde, cited in McLoughlin)

It was not surprising that in 1792, fearing a French invasion, the Association for Discountenancing Vice and Promoting Religion was authorised "to draw on Government funds to subsidise the schools where Protestant clergymen and teachers were striving to make the Irish more law abiding, industrious and temperate."'

Both these philosophies of education are premised on social manipulation and control. In crude terms, the education of the poor was seen as essentially about ensuring the social elites maintained and enhanced their power. The so-called rudimentary education given to the lower classes became embedded with a curriculum that reinforced conservative values and legitimised exploitatory practices. The politicians were not alone in playing the education card for their own political gains. Some churchmen came to view education as an enticing strategy for religious sheep stealing or repelling such initiatives.

… Waterford in 1802 was relatively well provided with schools for the rich and middle classes and for some poor children, beyond catechism, but for the vast majority of poor children there were few educational facilities available. This problem was considered minor, because being poor and being children, positioned this class on the lowest rung of society. Moreover, government, society or church did not believe in providing a substantial education to such as these to be an appropriate measure. Those who held alternative perspectives viewed the provision of education as a means to control and manipulate the poor. With few exceptions, the churches considered education as an agency to proselytise or to combat proselytism.

Rice rejected all of these views concerning the provision of education to the poor. Education for Rice was a means for the poor to have the possibility of reaching the potential for a fuller humanity. He believed that children who had been schooled would become more effective adults, while the lot of the uneducated would be further marginalisation as industrialisation, newspapers, and later "railways and the telegraph brought the World to Hibernia". (Jordan cited in McLoughlin) (see McLoughlin pp126-134)
Edmund decides to act - he begins a night-school at New Street
According to McLoughlin,

The Price of Freedom

, 2007: Rice's education ministry in New Street in 1802 seemed unplanned. Accommodation and furniture had to be rapidly acquired and the schooling process developed in a very ad hoc way, with problems concerning both masters and children. The "seating accommodation in Br Rice's school was very limited apparently, because he used send some of his boys out to the neighbours in search of forms, the number depending on the number of pupils. Each evening they returned the forms to their owners". (Prince in Normoyle)

This apparent disorder was uncharacteristic of Rice, and starkly contrasts the meticulous preparation expended with the development of the Mount Sion school and monastery. Indeed, it is very probable that his business acumen had led Rice to identify the land where he would build his future school and monastery years before 1802, a position Keane supports: "I am convinced that during the years between 1796 and 1798 when his friend Fr. Power was trying to fix up the Nuns at Hennessy's Road, he had formed the idea of getting for his own work the premises, Mount Sion, across Hennessy's Road from the Nun's Convent" (Keane in O'Toole) In 1802, Rice, "who was not yet forty years old, and in full maturity of his physical and mental powers" (O'Toole), opened his school in New Street, and also lived over the school in New Street for a short time… Oral tradition universally concludes that he did not intend to establish a permanent school in New Street'. So the questions to ponder are: Why 1802? And why New Street?

The answers would seem to be focused on the most precious person in his life, his daughter Mary. It is clear that from 1793 Rice planned a teaching brotherhood, but that he embarked on it in 1802. His love and responsibilities to his only child claimed indisputable priority. That would seem the obvious reason that curtailed any prior substantial engagement in his proposed education initiative. What may have happened quite unexpectedly was that his younger brother Richard urgently needed assistance with his growing family (to number eventually nine) and requested that the teenage Mary help his own young wife with the children. It was an unforeseen plea, but both Edmund and his daughter seemed to believe that Mary's relocation to her Uncle Richard's farm was an unwritten obligation to be honoured in the extended Rice family. It was around this time, or just before, that Joan, Edmund's almost 50-year-old half-sister, left Arundel Lane to marry.

Not having to be directly responsible for Mary meant Rice was free to commence immediately his education project. The evidence implies that Rice did not anticipate the start would be 1802 or in a venue not Ballybricken. This is a possible explanation concerning Rice's initiating his venture at New Street, a venue that had never been planned to be permanent. (see McLoughlin pp134, 135)

Garvan in Give to the Poor in Handfuls tells us: Thirteen years after the death of his wife Edmund made his first definitive move towards making a reality of his dream to right the injustices of the poor. His wife had inherited some stables in New Street, Waterford, and Edmund in 1802 had them renovated, and began a night school for "street kids", while still carrying on his business by day. Six boys attended his first class, but soon Edmund was overwhelmed with boys seeking learning. His two volunteer assistants could not endure the labours involved in teaching such unruly boys. He took on two assistants, paid for out of his own pocket. But they too gave up and told him that not for all the money in the world could they stay any longer with those uncontrollable boys. Edmund was now alone not only unable to cope but also facing the criticism of his business associates for his foolhardy venture. However, not all of them were so critical, for some put pressure on the Protestant Bishop to give Edmund permission to start a school when first he had refused. But God was not to be thwarted. Unexpectedly two men from Edmund's native Callan, Thomas Grosvenor and Patrick Finn, came not only to help him in the school but also to join him in his enterprise of founding a religious congregation.
Edmund provides for his daughter as she grows up
According to McLoughlin,

The Price of Freedom

, 2007: Mrs. Rice gave birth to a daughter Mary, born in mid-January l789, when Edmund Rice was 26 years of age. Unlike Rice's religious Brothers,

"most of the old [Callan] people here knew that Edmund Rice was married; both of my parents saw his daughter. It was thought that shew as delicate. As a young girl she is believed to have spent some time in Westcourt with her father's relatives. I recall the old people referring to her and wondering what had happened to her, as some of them remembered seeing her as a grown girl, she was often alluded to in conversations. Some people thought she entered a convent" (John Holden, quotes in Normoyle)

… Like her mother and her second cousin Richard Rice junior, Rice's daughter "became delicate" a term of imprecise meaning. For example, an entry in the North Richmond Street Annals states: '"27 February 1838, the Founder being in delicate health retired for repose [From Richmond Street] to our house, Mount Sion, Waterford". The same word is used describing some of the early Brothers. "The Christian Brothers were very poor in Cork first. Some of them who had joined the Society had been delicately brought up." In particular, Br Bernard Duggan is described as a man having "a delicate constitution". Br Joseph Murphy described some Brothers as delicate…

What is clear is that the word does not mean physical or mental retardation. None of these examples suggest any form of disability. The Brothers' investigator of Ricean history, Br Berchmans Cullen, concluded that "it was never said among the old people of Callan that she [Mary] was incapacitated in any way or that she was mentally defective". If Mary had any sign of mental incapacity, then it would be reasonable to expect that the Callan people would have relayed this observation to their interviewer.

The mental incapacity at birth scenario concerning Rice's daughter originated in 1929 with Sr. ]osephine's assertion that Mrs Rice fell from a horse in her final stages of pregnancy causing the newly-born infant daughter some sort of intellectual incapacity. This story came to light 140 years after the event without corroborating witnesses and it is in contrast to the consistency of the Callan evidence which fails to mention any physical or mental disability concerning Mary Rice.The most likely conclusion concerning Mary's health was that she was delicate, lacking a robust constitution, but strong enough to live seventy years, considerably beyond the average Irish life expectancy of the time of thirty-eight years…

One wonders if young Mary had acquired epilepsy, and that it became more pronounced later in life. Likewise, she may have had a stroke. In- deed, an old Callan woman named Statia Cuddihy says that "his daughter became delicate" (my emphasis), implying she was not always that way.

… One may well inquire what happened to Mary Rice when her father followed his calling in earnest in 1802. Mary was 13 at the time. In normal circumstances, in the next few years she would have left home and married, since most young Irish girls married between 15 and 17 years. The teenager Mary went in 1802 to live with Edmunds younger brother Richard, his wife Bridget (nee Egan) and their young family. Richard cultivated a farm in Killaloe, two kilometres from Callan. He held a mortgage on the property with a loan of £167 from his brother Edmund.

Traditional interpretations of this account suggest that when the father decided to initiate the Brothers, he sent the young incapacitated Mary to her Uncle Richard to be cared for. But once again an examination of the facts offers an alternative interpretation.

Until this time, Mary had been living with her father and her aunt Joan. Joan was the first daughter of Mrs Rice senior. Edmund was the fourth son of the second marriage. Mrs Rice senior was married to Robert Rice, Edmund's father, relatively quickly after the death of her husband, since she had two infant daughters to care for as well as the conduct of a large farm. Given this information, it is reasonable to speculate that Joan was between eight and twelve years Edmund's senior. When Rice at the age of40 commenced his 'school' in New Street in l802, Joan was probably around 48 to 50 years of age. It is known she married and had a daughter. The possibility has to be entertained that, given her biological clock, Joan had left her brother's household some years earlier to marry, leaving the 10- or 11-year-old Mary the 'lady' in charge of the Edmund Rice household.

In any event, the most likely person to care for a 'disabled' Mary would have been Joan, even after her marriage. Mary and Joan would have been particularly close, with Joan clearly having fulfilled the role of mother for Mary. So it seems logical that if Rice wanted to place his disabled daughter into the care of anyone, it should have been Joan, the only 'mother' young Mary experienced.

The question to ponder is: why did Mary go to live with Rice's younger brother Richard? In 1802, at the age of13, Mary was considered a blossoming young woman. Edmund's brother, Richard was managing his farm single-handedly, with his wife trying to raise her growing young family, eventually to become nine children. Such a situation does not of itself appear the most likely home into which a mentally and physically disabled girl could be integrated appropriately. If she were so incapacitated, the place for her to go would seem to have been with Joan, Mary's then long-term surrogate mother, or Patrick Rice, Edmund's second eldest brother, in his early forties and who was farming Westcourt with his childless wife Mary (nee Sullivan), while caring for his elderly mother.

In Ireland, and in other cultures, fosterage was a customary tradition in that the children of siblings were often cared for by a variety of aunts and uncles. Indeed, permitting a childless couple to raise a child from another family member was seen as an act of great compassion. For these reasons, it seems far more appropriate to send a 'disabled' Mary to Aunty Joan, her husband and little daughter or to Uncle Patrick and his wife.

What does seem likely is that the 'delicate' Mary was at an age and of sufficient capacity to proyide real assistance to young Mrs Richard Rice with a rapidly expanding young family. So it is proposed that Richard broached the issue with Edmund about Mary becoming part of his family to assist him and his wife care for her many younger cousins.

There is further tentative evidence to entertain this alternative interpretation. In 1816, at the age of 27, Mary went to live with her uncle, Patrick, Edmund's second eldest brother, and his wife at Westcourt. Patrick would have been in his late fifties at this time. Mr and Mrs Patrick Rice were hardly an ideal couple to care for a mentally and physically incapacitated adult. Consequently, one might speculate if the unmarried Mary again was requested to provide some assistance for an elderly childless couple, who were barely coping on a farming homestead. But this is speculation. What is factual is that Mary lived at Westcourt with her aunt and uncle until around April 1825, when Aunt Mary became invalided or died. Uncle Patrick died in 1833 (see McLoughlin pp52-56)
Mount Sion, Edmund's first permanent foundation at Ballybricken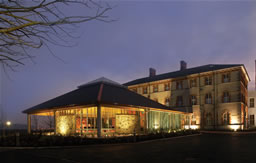 According to Houlihan,

Overcoming Evil With Good

, 1997:With the funds obtained from the sale of his provisioning concern, Edmund Rice purchased a plot of land on the south side of Waterford. This was close to the Ballybricken home where he had lived with his wife for those few years they enjoyed together. Nor was it far from the Presentation Nuns whom he had helped with the establishing of their convent and school. In fact there was a narrow passageway known as "Hennessy's Lane" connecting the two properties so that Edmund and his community could use this pathway to go to the convent for daily Mass. Brother Rice's new school would be on an elevated site in the working-class district where once the thatched Faha chapel had stood. It would take almost two years before the new school was ready for occupancy. In the meantime, classes bulging with raucous youngsters, continued at the New Street make-shift school. Edmund and his little community of Brothers, as they taught, worked and prayed together were at the same time getting to know each other and making plans for their move up the hill.

Bishop Thomas Hussey was pleased that there would now be a new and permanent tuition-free school for boys from Waterford's poorest families. When the construction work was well on its way, Edmund noticed that the Bishop had become rather cool and distant, not as friendly as he had been. Upon inquiring and discussing this with his good friend, Father John Power, he found that there were rumours going around the city that Edmund Rice was moving to this new site in order to be completely independent of Church authorities. Of course, this was not true, but apparently Bishop Hussey thought it was. Edmund decided to bring the deed to the property to the Bishop's residence and to sign it over to him in his presence and to confirm that he was committed to live and work under the jurisdiction of the local bishop. Bishop Hussey was touched by this humble and generous gesture on the part of Edmund Rice." "Go on my dear friend, and prosper," said Bishop Hussey; "I want no deed. I know of no one better fitted to administer your property than yourself. I am quite satisfied. You and your work shall ever have my warmest support and protection." (ref. Burke) The Bishop resumed his interest in the undertaking and in his report to Rome spoke in glowing terms of Edmund Rice's community of teaching brothers, the success of their school on New Street and the project of expansion they had begun.

According to Garvan, Give to the Poor In Handfuls, 1996: In the meantime Edmund started the building of a proper school, and a house for his small community. He used his own money for these buildings for he had by then sold his business to a Mr. Quan. With true wisdom and keen business insight Edmund invested his money in property and cattle. The money he gained from these investments enabled his congregation to survive financially for many years. It is worth noting here that of 32 personal submissions made in 1912-13 by people in Callan about Edmund Rice, the only criticisms made of the Rices were with regard to land and money. Edmund himself was criticised by one, Thomas Heron: "I heard some old people refer to the fact that Edmund Rice took farms which some less prosperous people were unable to hold. He re-set these farms, and from the proceeds financed his schools. Some of the descendants of the people, who thus lost their holdings in the Minaus area of Callan, were rather critical of, and embittered against, Br. Rice. Outside the question of Edmund Rice and the land, I never heard anything but the very best of him."

In 1804 Edmund Rice was an exceedingly busy man. Not only was he engaged in teaching and providing clothes and bread, he was faced with the twin task of drawing up Rules of Religious Life for his intended congregation, and also devising a system of education - how to handle swarming, large classes in the most effective way! 1n addition, as a well-known businessman of property, he was constantly in demand for making and witnessing wills and deeds of conveyance. It has never been explained how he reached on all of this. We can only assume that his life as an outstandingly successful businessman, accustomed to handling a variety of calls and demands, in the large and varied aspects of having to supply ships with their requirements, that this experience and training stood him in good stead. Edmund's experience in business was his best preparation for the task that lay ahead. That he himself was eminently practical was proved by his business success. It was now seen in the practical rules he drew up for his new system of teaching and also in the Religious Rules he outlined which would suit the Irish character and temperament of his companions. These Religious Rules would encapsulate his own spirit and vision; here he had a clear field as his was to be the first congregation for men to be founded in Ireland. Edmund Rice was one of the few laymen in the Church to found a religious congregation.

On 7 June, 1805 Edmund's new school was blessed by Bishop Hussey (returned from exile) who suggested the name Mount Sion because the situation of the building reminded him of Mount Sion in Jerusalem. Indeed Edmund was bringing about the establishment of a "new Jerusalem." Mount Sion consisted of two classrooms downstairs with seven bedrooms for the Brothers above. "The bedrooms were small and contained little furniture – a bed, a stool, a table and a few religious emblems. The head of the wooden bed titted into a recess in the thick wall, and an alcove served as a wardrobe." The large classrooms measured 20 metres by 9 metres. The classrooms were overcrowded from the start, and wooden huts had to be built. Open-air classes were also held for two to three hundred boys, with a play-shelter alongside. The complex included a bakery with a tailorshop above.
The Brothers of the Presentation
According to Garvan,

Give to the Poor In Handfuls

, 1996: Edmund and his growing number of followers were striving to feed, clothe, and teach the poor, unruly boys of Waterford. Mature men of very varied accomplishments and of different social background joined him: a silk merchant, a wine merchant, a teacher of mathematics, an accomplished musician, a banker, an architect and builder, a captain in the yeomen, and a parish clerk. With the blessing of the new Bishop Power, for Bishop Hussey died suddenly in Iuly 1803, Edmund and his seven companions made their first vows on 15 August, 1808 as religious Brothers of the Presentation, for they followed, as their rule of life, a suitably adapted rule of the Presentation Sisters. Edmund took the religious name of Ignatius after his patron, St. Ignatius of Loyola, the Founder of the Jesuits.

According to Houlihan, Overcoming Evil With Good, 1997: By 1802 the transition was made but Edmund's temporary New Street school in Waterford was just a stepping stone to the kind of school he hoped to build. The teachers he paid did not stay with him very long. The Waterford street-boys turned "students" were too much for them. Before the year was up, Edmund found himself quite alone. His decision had run into its first snag. What could he now do under these circumstances? More decisions had to be made. Should he return to the business world? Maybe he should look for a monastery some place where, in peace, he could commune with the Lord. He had heard that in some places men who were teaching in Catholic schools were forming groups who lived and prayed together. Local people called them "Monks" although they were not under vows or members of a religious order. These "Monks" it was said "did all their own domestic duties, even the cooking, and that it was a thing of daily occurrence to see the teachers attending to the vessels on the fire with one hand, and a classical author in the other. Edmund, alone with 200 boys to teach, probably discussed his situation with his brother, Father John, who had returned from Italy recently. The idea of "Monks" (Catholic lay-teachers) living together in small hovels was giving pastors and bishops ideas about founding orders of men who would teach in the schools of their parishes." It may have been through Father John Rice that two Callan men volunteered their services to teach with Edmund in the New Street school. Thomas Grosvenor and Patrick Finn had talked to Father Rice about their vocation and the priest advised them to join up with Edmund for a while, to do some teaching and to make a final decision after this experience. Now, Edmund had the makings of a religious community or brotherhood. The three lived together, prayed in common and taught in the school. This was the beginning of Edmund Rice's "Fratres Monachi" (Brother Monks) as they were called in the first official documents issued by Rome in 1820.
Edmund's first followers
According to McLoughlin, The Price of Freedom, 2007: The first generation of Brothers was well educated and had met the challenge of earning a living:
Austin Dunphy, Rice's long-time deputy, was described as a most capable manager 'having both discretion and ability'
Patrick Ellis, who became novice-master, had been a Professor of Mathematics in the diocesan seminary
Francis Manifold was a major in the Wicklow yeomanry
Ignatius Barry was a certified chemist
Joseph Cahill is described as a man of independent means, his brother Baptist had been a prosperous boot-maker and had speculated successfully in considerable real estate.
Thomas Watson and Thomas O'Brien were both wine merchants
Joseph Ryan had been extensively engaged in the leather trade
Joseph Keane was a silk trader
Joseph Murphy whose'literary attainments were extensive and accurate came from a wealthy family
Jerome O'Connor and Baptist Leonard are described as 'well educated' and having good business capacity
Joseph Leonard was a bank manager
Austin Reardon had been an architect and builder
Paul Riordan had been an accountant
James Dollard had been 'an excellent businessman
John Wiseman was a qualified civil engineer, "as well as being erudite in English, Irish literature, Latin and Greek.
Clearly, Rice's first followers were substantially educated, some conversant in the classics, while all had been engaged successfully in the workforce. They not only brought with them an appreciation of what boys needed to have to gain meaningful employment, but also sound business sense, organisational acumen and a practical and relevant orientation in the conduct of their schools. The early Brothers were religiously motivated and committed school masters, enthusiastically focused on the children's development and their achievement. They provided a powerful alternative role model to the children's struggling and illiterate parents, often "overburdened by the persisting struggle to reconcile resources with children's needs" (see McLoughlin p. 145)
Transformation in the boys of Waterford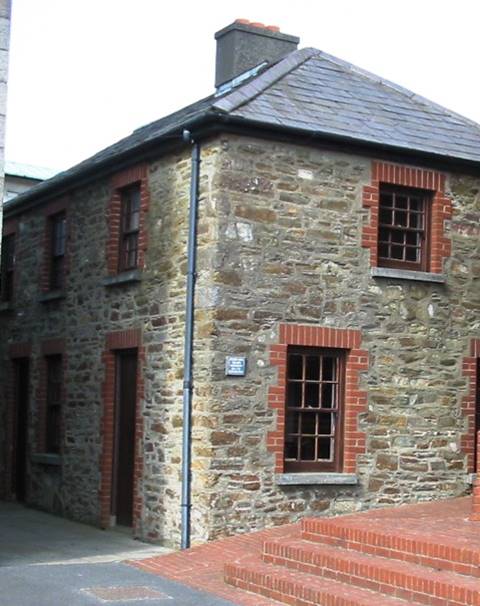 According to Garvan,

Give to the Poor In Handfuls

, 1996: Edmund wrote in a letter: "Have courage, the good seed will grow up in the children's hearts later on." Slowly he and his companions were experiencing the truth of Edmund's belief. As news of the extraordinary effects of the good work of these men, on formerly uncontrollable boys, spread throughout the land, Bishop Moylan of Cork asked Edmund for some Brothers for his diocese. Edmund had none to spare but offered to form and educate any men the bishop could send him for the work. Soon some came, were prepared for religious life and teaching, and returned to Cork to carry on the same kind of work Edmund and his Brothers were doing in Waterford. In this way the Presentation Brothers were spreading throughout Ireland. In a report Edmund made about his schools he wrote: "The half hours explanation of the Catechism I hold to be the most salutary part of the system. It's the most laborious to the teachers; however, if it was ten times what it is I must own we are amply paid in seeing such a reformation in the children."

In 1809 there were 700 children attending Mount Sion. They were "kept in good order and the masters seldom had recourse to corporal punishment." Not only did Edmund educate them, they were also fed from a bake-house. He also employed one tailor full-time making clothes for the poor boys, and at times he had up to seven tailors making suits of corduroy for them. The tailors worked over the bake-house where he had plenty of clothing material then in common use: ratteen, a kind of tweed; dowlas, a kind of coarse calico; corduroy and linen. On one occasion Edmund purchased 90 pairs of new shoes for poor boys. The change in the boys was remarkable. By now they were subdued and well behaved. Edmund drew up his own system of education to be followed in all of his schools. It was an improvement on the best methods of his day. Furthermore, it envisaged not only the provision of a thorough education but also that the school would be imbued with a spirit of religion. Spiritual values would at all times be inculcated. There was no doubt about Edmund's vision for his schools, and their success was widely acclaimed. Edmund Rice became something like a whole Department of Education financing everything with his own money and the money of the other Brothers. His undoubted talent as a business-organiser was not lost on his schools, and his connections with many of the businessmen of Waterford and elsewhere put him in a very favourable position to help secure positions for lads coming out of his schools.
Painful conflict with Bishop Robert Walsh

According to Garvan,

Give to the Poor In Handfuls

, 1996: Edmund had been blessed in his relationships with Bishops Hussey and Power of Waterford and with most of the other bishops in Ireland. However, he and his Brothers suffered greatly from Bishop Robert Walsh, successor to Bishop John Power, who died in January 1816. Much controversy surrounded the selection and appointment of Dr. Robert Walsh, parish priest of Dungarvan, as bishop of the diocese of Waterford and Lismore. There were factions among the priests both for and against the new bishop. As Edmund was a very prominent person in the diocese he too became caught up in this painful and messy business. A plenary session of the hierarchy of the Province of Munster affirmed that Dr. Walsh was NOT a suitable candidate to be bishop. Surprisingly he was appointed and ordained bishop on 31 August, 1816. Soon complaints were sent to Rome about Bishop Walsh from several priests. and the Cardinal Prefect of the Sacred Congregation of Propaganda wrote to the Archbishop of Cashel in 1818 beseeching him: for God's sake let us have the truth and quickly." Lay people in Carrick-on-Suir and Waterford complained to Rome about the bishop in a letter from Bishop Coppinger, with signatures collected by Edmund Rice.

Shortly after Bishop Walsh's arrival in the diocese he called into question the probity of Edmund Rice and other trustees of Waterford charities, and, indeed, that of his predecessor, Bishop John Power. Edmund was accused of embezzling fifteen hundred pounds. However, Archbishop Murray of Dublin stood by Edmund and urged his continuing presence as clerk of these Waterford charity funds.

Bishop Walsh accused Edmund, in one of his official letters to Rome, of having an "intermeddling spirit… (and) who did much mischief among the clergy here, by the diffusion of uncharitableness all over the country..." He calumniated Edmund in the most awful terms: "… this man (Edmund Rice) sometime was a dealer in cattle and a common butcher in the streets of Waterford - Your Eminence will judge from this, his slaughtering profession, of the savageness of his nature and absence of tender sensibility and want of human feeling. This impertinent intruder in the affairs of the sanctuary was of habits irregular and of desires lustful, which to the prejudice of morality and the scandal of the faithful he fully gratified - from his loins issued many a bastard child, some of which breed and spurious progeny are still living."

In 1820 the hierarchy of the Province of Cashel reported to the Sacred Congregation of Propaganda: "... in consequence of the reports made to us concerning the proceedings at Rome of the R. Rev. Dr. Walsh, Bishop of Waterford and Lismore - proceedings, if as stated to us, characterized by the most marked disregard to truth and the most unprincipled and calumnious representations - feel it incumbent on us to repel these base falsehoods by laying open the truth…" This report later recommended that: "a remedy for the evils which prevail in and distract the unfortunate diocese of Waterford and Lismore, should be radical, and in order to be radical should, in our mind, involve the suspension of the present bishop and the appointment of an administrator." Bishop Walsh had to transfer to Tivoli in Italy but before his case could be judged he died there on 1 October, 1821. This brought to an end a most severe trial for Edmund and his congregation, because all of this was going on while he was seeking Papal approval for his congregation as an institute governed by a Superior General and relatively independent of the bishops.
Growing Pains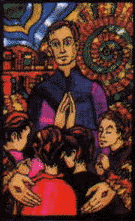 According to Houlihan, Overcoming Evil With Good, 1997: As news of the success of Mount Sion was spread around Waterford, and as the school was expanding, in order to accommodate incoming students, Brother Edmund Rice had to look out for more teachers to take charge of the new classes. Up to this time, men had joined his brotherhood as volunteers on their own initiative. He realized that he would now have to actively recruit many more men to keep up with the growth of his tuition-free school. He had his eyes out for men like himself, men who had done well in the business world (and therefore, would bring funds with them to help support his community and school). Edmund needed men who were motivated to reach out to the masses of disadvantaged people in the city. One such likely person was a Thomas O'Brien, a wine merchant acquaintance of his who had done well financially, was unmarried, and whom Edmund thought would be a good candidate for the brotherhood. His newest Brother, Ignatius Mulcahy, had great experience as a businessman before joining Edmund's fraternity and the Founder respected his maturity and wisdom so he asked him to call on Mr. Thomas O'Brien, the wine merchant, the next time he was downtown and to suggest to him the idea of joining the Mount Sion community.
The wine dealer, like most of Waterford's citizens, was well aware of what Rice and his men were doing at Mount Sion and he was not long in deciding to become one of Edmund's group. However, he was not so much thinking of Mount Sion, but rather of setting up a similar school in his native town of Clonmel, which was about twenty miles from Waterford. Mr. O'Brien was anxious to use his wealth to endow such an establishment if Edmund and Bishop Power agreed that it was feasible project. Both men jumped at the opportunity they saw to expand the good work, so Br. Ignatius Mulcahv was sent on another errand, this time to Clonmel, in order to investigate the possibility of opening a free school for the boys of that town. Dr. Thomas Fleming, the pastor of the parish in Clonmel was approached. Br. Mulcahy showed him the introductory letter written by Bishop Power and explained how Brother Edmund would gladly build, maintain and operate a school if he was agreeable. Father Fleming was not interested, so the proposal was rejected.
Undaunted by the failure of this proposal, and again with the Bishop's blessing, Edmund sent Br. Ignatius Mulcahy, this time, to Carrick-on-Suir, another town not far from Waterford. The Pastor here, Father John McKenna, expressed a willingness to have a monastery and schools erected in that town. Brother Rice now had the "go ahead" from the Bishop, the pastor and Mr. O'Brien. His second monastery and school were now in the offing.
The year was 1805. Edmund and his fledgling community were not yet an official religious order as they had no rule of their own. At Bishop Power's suggestion, they adapted the Rule of the Presentation Sisters and lived according to it until such time as Rome would approve such a rule for themselves. Earlier, Bishop Hussey had informed the Pope of the existence of Brother Rice's community in 1803 when he wrote "that a few men have been formed into a Society who eagerly desire to bind themselves by the three solemn vows of chastity, poverty and by obedience under rules similar to those of the Sisters, and already a convent residence has been built where four holy men reside who seek approbation of their rules when it will be deemed advisable by the Holy See."(ref. Normoyle) The Bishop died before receiving an answer to his letter. His successor, Bishop John Power, allowed the community to make temporary vows for a year and after hearing from Rome in January 1809 he permitted them to take perpetual vows. On August 15, 1809, seven Brothers made their perpetual profession in the Presentation Convent chapel in Waterford. It was now up to them to present a rule of their own for approval and they were told in advance that their request "has brought much consolation to the Sacred Congregation, and the zeal and religious disposition of these devout men are highly praiseworthy." (Waterford Diocesan Archives)
The first off-shoot of Mount Sion was ready for students at Carrick-on-Suir in 1806, with two Brothers, soon to be joined by a third. A year later a third house and school were opened in Dungarvan, another parish in the Waterford Diocese. Two Brothers were available to open that house! This fact that Edmund's Brothers were staffing three schools in the diocese and the favourable letter to Bishop Power from Rome were responsible for the Bishops decision to allow the Brothers to make Perpetual Profession of Vows in 1809.
For seven years, Brother Rice and his community had made up a daily schedule for their prayers which was based on that of the Presentation Sisters. There was a chapel in their house and they were allowed to have the Blessed Sacrament reserved. This is something Edmund insisted on whenever a new foundation was being planned. In spite of the full schedule of teaching each Brother had assigned to him, several hours of the day were set aside for prayer and meditation. This was an essential part of their lives. Ascetical practices were carried out and meals were quite simple, perhaps too simple, since the men put in long hours in difficult school work every day but they were committed to live much like the poor families that they served. They lived under these conditions as volunteers since it was not until 1808 that they were allowed to bind themselves by vows. Their lifestyle changed very little after this important step in their religious lives.
Nano Nagle's city of Cork was the next place looking for the services of Edmund Rice's Brothers. Cork was a larger city than Waterford and although the Presentation Sisters had been established there in 1775, there were no schools for boys of the poorest families. Bishop Moylan had played a major role in helping Nano found her Order and he had been in contact with Bishop Power of Waterford encouraging him to give his fullest support to Edmund Rice and his community of teaching Brothers. Now the old Bishop was most desirous of having Edmund's Brothers working for the boys of his Diocese. He had visited Waterford and with Bishop Power went to Mount Sion to see for himself the kind of work the Brothers were doing. He was mightily impressed and resolved to bring the Brothers to Cork. The Bishop made the request of Brother Rice for Brothers to come to his Diocese, but the Founder had to refuse because he had none to spare. Edmund did offer to train any men whom the Bishop would send to Mount Sion so Moylan wasted no time on his return to Cork to call a meeting of the schools' committee, at which he described what the Brothers were doing in Mount Sion. Before the meeting was over, two men offered the Bishop their services to go to Mount Sion to begin training for the Brotherhood. They arrived there on St. Patrick's Day, 1809 and were welcomed by the Founder. Brothers Jerome O'Connor and Baptist Leonard, two years later returned to their native city and "began the work of gratuitous education in the small schoolhouse, Chapel Lane immediately behind the Cathedral." (ref. Burke)
This was November of 1811. Brother Rice had intimated to Bishop Power that "Brother Jerome O'Connor would be the better of the two for Director, which was arranged accordingly by Bishop Moylan. The older brother of Brother Baptist entered the Cork community in 1812 and would be known as Brother Patrick Joseph Leonard. He had been a clerk in a bank who was considering the priesthood, but when he informed Bishop Moylan of his decision to become a Brother, the old Bishop is said to have replied: "Thank God, I now have no fears for my poor children; they will have a father."
The next Irish city to claim the services of Edmund Rice's Brothers was the capital of the country, Dublin. It was Archbishop John Troy and his Coadjutor, Archbishop Daniel Murray, who invited the Brothers to the Archdiocese. The association of Brother Rice with this latter churchman was to be a fortuitous blessing both for his little band of Brothers and for Ireland. "Doctor Murray saw the utility of securing without delay a branch of this young and flourishing society [Christian Brothers] and Mr. Rice, at once yielding to the solicitations of His Grace, deputed two of the Brothers to proceed to Dublin and open their mission amongst the poor children there. By His Grace's influence and bounty they established in the parish of St. Andrew's, over which he then more particularly presided, renting a small dwelling-house in Moira-Place, where they erected a little oratory, and resided except in the intervals devoted to the duties of attendance to the children." (ref. Meagher)
"An application to open a school in the metropolis had a special interest for Edmund. Negotiations for setting up the new foundation brought him into personal contact with one of the greatest prelates of the age whose assistance in later days would be invaluable". (Normoyle) Edmund went all out to insure the success of this newest mission. His first task, and it was no easy one, was to convince Bishop Power of Waterford that he could spare two Brothers to go to Dublin. There were several newcomers entering Mount Sion for training as Brothers just at the time, so the Bishop reluctantly agreed to lend two candidates to go to Dublin until such time as Dublin would supply its own men for the new school. The Founder happily informed Dr. Murray that Brothers were coming to the Archdiocese. Br. John Baptist Grosvenor and a companion were chosen for the venture. In a letter to the Archbishop, Brother Rice wrote: "I resign into your Grace's hands every dominion whatever over the subjects in Dublin; and shall allow them during their lives a stipend of forty-four pounds a year." It was this offer of financial assistance that troubled Bishop Power when he found out about it. He realized that Edmund was willing to make sacrifices for this undertaking but as the major superior, Bishop Power also knew that Mount Sion could ill afford to financially support the new community in Dublin. He made it quite clear to Archbishop Murray that this grant could not be continued. "Under these circumstances where the existence of our own house and school is brought into jeopardy your Grace will perceive that I cannot by any means agree to have any disbursements or remittances for the future made from the Waterford establishment which has been formed not solely by Mr. Rice's means but also by means exclusively intended for the diocese." This incident brought home to Edmund Rice some of the administrative problems he would have to encounter as his brotherhood expanded throughout Ireland. He experienced the limitations of the system in which he was involved. He knew there would be more clashes like this in the future because he was getting requests for Brothers from Bishops around the country. For the moment, if Brothers were requested by Bishops in other places, it seemed that the only way he could help them was by training men whom said Bishops would send to Mount Sion for that purpose. As to the finances to support schools that were for non-tuition paying students, this was a matter that would challenge him for the rest of his life.
Edmund's position during this first decade of his new life was that of Founder. At times he was the Principal of the school and Superior of the community at Mount Sion and he was also responsible for training men from other places who wished to join his group. On completion of their novitiate they returned to their separate towns to establish schools similar to Mount Sion. Once established, each house was independent and could receive and train new members. The local Bishop was the only higher superior and was the only one who could transfer a brother to a different house. Likewise the Bishop appointed the Superior of each house. All the Brothers looked to Brother Rice with respect and reverence because he was the Founder but he had no legal authority over the brothers outside of Mount Sion and his authority there ended when his term ended. When Brother Rice's term as Superior of Mount Sion was completed in 1814, Bishop Power appointed Austin Dunphy to the position. Brother Austin Dunphy served for a few years in this capacity until he was assigned to another community.
Bishop John Power and Brother Edmund Rice had a very close relationship and they usually agreed on matters pertaining to the brothers. That was fine when all the schools were within the Diocese of Waterford but problems arose when the brothers expanded into Dublin and Cork where each of these places had a different bishop. As time went on, Edmund realized that all of these higher superiors (bishops) in the various dioceses where the brothers had houses made it difficult for the Brothers to have any kind of unity and it hampered him when he was trying to give assistance in places that needed additional Brothers. It would take another ten years to deal with this issue and to come up with a solution that resulted in two possible approaches and two separate brotherhoods.
Edmund had already experienced the tension between his two good friends—Bishop Power of Waterford and Archbishop Murray of Dublin. That was nothing compared to the problems that erupted after Bishop Power's death in 1816 and when Bishop Robert Walsh became Bishop of Waterford. In the meantime, Brothers opened schools in Thurles and Limerick —now there were two more Bishops to complicate matters. The bottom line to all of this was the fact that each Bishop was concerned with the portion of the Church over which he had jurisdiction. Edmund and the Brothers were content to serve under any Bishop but they also desired the freedom to expand into any diocese that wanted their services.It was Archbishop Troy of Dublin, a Dominican, who first suggested to Brother Rice that the Brothers might consider becoming a Papal Congregation since if this were the case they would be directly under the Pope and they would be free to serve anywhere in the universal Church. This would require the Brothers to have one of their own members as Superior General who would administer the whole congregation.
Edmund and the Brothers discussed this possibility at many meetings and made it the subject of their prayer for several months. Archbishop Murray and Father Peter Kenney, a Jesuit theologian, strongly suggested that Edmund should apply to Rome for the kind of arrangement that the French Brothers of Jean Baptiste De la Salle had received from the Pope for their society and who were free to send Brothers to any diocese. The Founder had copies of the French Constitutions sent to each house so his brothers could read them, discuss the document and pray over it. This was Edmund's usual style of leadership. He always consulted his men before making any major decision.
Edmund invited the Director of each house to come to a meeting at Mount Sion in August of 1817 in order to determine whether or not they wanted to pursue the course suggested by the Archbishop. After a week of deliberations, the brothers unanimously resolved "to adopt a style of government similar to that outlined in the French Brief, with rules and constitutions ...and to forward the articles to Rome for approval." (Burke) The formal request was made to the Holy Father immediately after the meeting and it was accompanied by strong recommendations from Most Rev. Dr. Troy, Archbishop of Dublin, Dr. Murray and other prelates, earnestly beseeching the Holy Father to grant the petition of the brothers.
Although on September 5, 1820, Pope Pius VII gave his approval to the Brothers' request, the Brief did not reach Ireland until the spring of 1821. All of the professed Brothers were invited to Thurles to hear the Brief read and to sign the formal letter of its acceptance. They spent two days at the August session discussing various aspects of the document, at the end of which they signed the letter. There would be another convocation of all the Brothers at Mount Sion held during the Christmas vacation, during which the Brothers would attend an eight day retreat preached by Father Kenney. Then the Brothers would make their Profession in accordance with the new Constitutions. This ceremony would be followed by the first General Chapter of the new Congregation at which the Superior General and his two Assistants would be elected.
Christian Brothers

According to Garvan,

Give to the Poor In Handfuls

, 1996: Edmund knew well the needs of different places in Ireland, but to move a Brother from one place to another required much negotiation with bishops of different dioceses. Through a suggestion of the Archbishop of Dublin, Edmund wanted to change his original rule to enable his group to become a pontifical congregation with a Superior General at its head like the De La Salle Brothers in France. In this way the Superior General had control over the transfers of the Brothers without having to consult the bishops. This new rule was approved by Pope Pius VII in 1820, but the document did not reach Edmund until May 1821. Nineteen of the thirty Brothers on 20 January, 1822 formally accepted the new rule and elected Edmund as their first Superior General. The new congregation was known under the title of Brothers of the Christian Schools or Christian Brothers. However, a number of Brothers in Cork, to Edmund's sorrow, would not attend the meeting to accept this document. Brother Austin Riordan wanted to continue according to the old Presentation Rule, under the local bishop, and some of the Brothers followed him. That congregation continues to this day as Presentation Brothers doing excellent work in Ireland, England, USA, Canada, the West Indies, Peru and Ghana. They claim Edmund Rice as their founder.
Edmund's practical love of the poor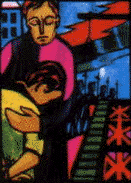 According to Garvan,

Give to the Poor In Handfuls

, 1996: Edmund had great sympathy for prisoners in jail and showed it in a practical manner. He was well known to the jailers and had free access to the prisons, where he never went empty-handed. He frequently brought sums of money donated by the bishop. As a Government report on prisons made clear, "the young delinquent is soon converted into a hardened criminal." It was this fact in particular that moved Edmund to visit the prisons regularly with his Brothers to give some kind of religious instruction and solace. Special attention was given to those awaiting execution to try to reconcile them to their fate and prepare them to face death. Many of these had become hardened and callous during their imprisonment and were unresponsive to the chaplain, but were won over by Edmund. On execution mornings he was allowed, as a special privilege, to meet the condemned man for the last time and accompany him to the scaffold. The Brothers at Mount Sion continued this important though distressing ministry when Edmund left Waterford to reside in Dublin.

Edmund personally helped many people including Poll Carthy, who had become an inveterate drunkard and could not be induced to give up drinking. Then Edmund Rice took an interest in her, and his charisma worked, just as it had worked over the years with prisoners awaiting execution, undisciplined youths and others. Reacting to his approach, Poll agreed to go to the Presentation Sisters for instruction. She also agreed to take the pledge. Having been provided with decent clothes by Edmund, she undertook the 24Okm journey on foot to Cork to take the pledge before Father Mathew. Her penitential pilgrimage bore fruit, for her life was permanently transformed.

There was also the young Italian boy who turned up in Waterford by barge from Carrick-on-Suir. Drenched by rain, he was selling pictures from a pack, and his English vocabulary consisted almost entirely of the word, "Buy!" Edmund befriended, instructed and encouraged him, evidently to excellent result, for the youth was Carlo Bianconi who went on to establish a celebrated network of horse-drawn transport, accumulate much wealth and become Mayor of Clonmel. He gave Edmund a free pass on his coaches anywhere in Ireland. Bianconi supplied Edmund with twenty suits a year for poor boys.

Edmund continued his unremitting work in legal matters for the poor who were so easily badly done by. He had decent clothes made for the poor boys who attended his schools and in different styles and cloth so that they would not be embarrassed. Hungry children could get food at school and their parents were helped in the evenings with classes and material to read. Truly Edmund wrote in a rare moment of self-disclosure: "I have for many years past laboured for the advancement of Education among the poorer classes and other works of Charity to which I have chiefly devoted my life." A Government publication on the Education of the Poor in Ireland in 1825 stated that Brother Rice had 30 Christian Brothers working in 12 different towns and cities, and that these 50 Brothers were educating, free of charge, 5,500 boys. It is not known how many of these boys were being fed and clothed as well.

Edmund was a deeply kind and compassionate man as the humble and unknown people testified of him, like John Flynn of Waterford: "I went to school to Brother Rice, and he was a grand man who was pious, holy and charitable. He was very affectionate and kind to children. Rich and poor were equally dear to him. When leaving school the boys shook hands with him, and next morning if they had been beaten by their parents, they would show him the place to make it well." In Dublin, Anne McDonnell had much the same to say when she recalled: "My eldest son was under the instruction of Brother Rice. He was stopping from school one time and I brought him to Brother Rice and asked him to punish the lad. Brother Rice said that it was against the rules of the school for him to punish the boy and that I should do the punishing myself. "Wait until I catch him home and won't I punish him!" said I. Brother Rice laughed heartily at my boasting and he took the boy from me. He told me not to be hard on him. Brother Rice was kindness itself to the boys and he was one of the mildest of men. He was mild in manner and appearance. The people loved him and thought him a saint."

It was not only the poor who spoke well of Edmund. Many people, both Catholic and Protestant, expressed their high regard for Edmund and his work. Henry Keane was a solicitor in Waterford who did much of Edmund's legal work and knew him closely and personally. He remarked of Edmund: "No man was ever surer of himself than Edmund Rice." This sureness came from Edmund's belief in himself, his experience of Christ appealing to him in the poor, and his utter conviction that what he was doing was God's work: he was improving the lot of the poor, enabling them to live better lives with hope for their future. This, in turn, enabled them to see what their world could be, when seen with the eyes of Christ.

In Limerick a terrible cholera epidemic broke out and the Brothers used the school to care for the afflicted. Not a single Brother, as Edmund predicted, died from this epidemic, even though they were handling and caring for those struck down by the disease. A later Superior General, Brother Louis Hoare, was seen carrying out corpses on his back. In a letter at this time Edmund wrote of the situation: "Our Limerick Brothers are doing more than our good ones here (in Dublin) have done. Every day they are attending the poor cholera patients in the hospitals. They give a frightful account of the ravages it is making there. Sixteen sent dead out of the school - which has been turned into a hospital - one morning I am not one bit in dread that a Priest, Nun or Monk will sink under its direful hand."

According to Houlihan, Overcoming Evil With Good, 1997: Two places that Edmund knew he would find people who needed help were the jails and the primitive hospitals in lreland's cities and towns. He liked to visit these institutions because he knew he would meet persons there who were desperate and who had no one to whom they could tum for help. He was a regular visitor to prisoners especially on Sundays and holidays. The prisons were awful places, cold, damp, filthy—where only a bare minimum of food was offered to the prisoners. Edmund made visits to the prisoners to give them comfort, to provide them with some food, and to listen to the reasons for which they were jailed and perhaps to give them religious instructions. He would question each prisoner about his family and would agree to see if he could assist the wife or children in some way. When a prisoner was to be hanged Edmund and the Brothers would talk to the person about to be executed, pray with him and accompany him to the gallows. The first book about Edmund Rice by John Shelly of Callan was printed in 1863. He describes Mr. Rice, referring to the years before he founded his brotherhood in these words: "Besides being a business man, Edmond [sic] Rice was a social worker". Some of the inmates in the prisons in Waterford were there for non-payment of rent or other debts. Edmund visited such prisoners and often paid their debts if he could, so that they could be released and return to their families. He would sometimes give money to the jailer to provide food for the prisoners. He often accompanied those to be executed to the scaffold, all the while doing his best to console them by his words and prayers. This ministry to those in prison did not stop when Edmund built Mount Sion or after he founded his Institute. Mr. Rice's account books for 1807 and 1808 carried entries for amounts given for charity to the various prisons in Waterford (city or county) and donations given directly to prisoners. One of the entries is dated December 25, 1807 which indicates he gave a half-crown to each of forty-two prisoners. Edmund's example was followed by the Brothers in these early years and they are mentioned in various newspaper articles on such occasions. "At Twelve o'clock the mournful procession left inner court of the gaol [jail]...Thomas F...was attended by the Rev. Walter Cantwell, and the other prisoner by the Rev. Edward Power. In addition to these Rev. Gentlemen, the Brothers of the Christian Schools of Mount Sion, ever to be found where they can administer comfort and alleviation under such trying circumstances, were assiduous in their exertions from the time the men left the dock after conviction." (Positio)

The hospitals in the cities such as those in Dublin, Cork, Waterford and Limerick were meant for the wealthier clientele of doctors and for those who could afford to pay for services rendered. There were wards for the poor attached to most such institutions and infirmaries that catered to the sick poor. For example there was a hospital on Jervis Street in Dublin that Edmund and the brothers frequently visited. In the Positio for Mary Aikenhead the author records a meeting of one of her Nuns and Edmund Rice. "The sisters were in the habit of visiting the female wards of Jervis Street Hospital, and on Sundays they generally met the Christian Brothers who were attending the male wards. Sister Mary Xavier decided to enlist the help of the brothers [to advise the Sisters on school management], and she appealed to Brother Rice in person. At first he found it hard to believe that she could be serious but once she had convinced him that this was a genuine cry for help, he promised to send her Brother Duggan." It should be noted that there was a close bond between Mary Aikenhead's Sisters of Charity and Edmund Rice's Brothers, especially in Dublin because both groups were dedicated to the service of the poor. The help solicited by Sister Xavier was in connection with the sisters' first school in Dublin at a location close to the Brothers' school on North Richmond Street. More about this later. The Sisters of Mary Aikenhead (Irish Sisters of Charity) and those of Catherine McAuley (Sisters of Mercy) were to be seen in every part of Dublin wherever there was even one poverty-stricken soul who needed a helping hand. This is why the 'new' type of Sisters came to be affectionately called "the walking nuns" by city people. Although Edmund Rice and his brothers were first and foremost teachers, they also visited the sick and prisoners as a part of their ministry. They worked seven days a week and were tireless in their ministrations of charity to the poor.

There were times when the schools were closed and handed over to the civic authorities because of the dreaded typhoid fever or cholera epidemics which periodically swept through Ireland. In 1816 the Brothers were just completing the building of the famous North Monastery in Cork when they were asked to allow the building to be used for those dying of typhoid fever. A Catholic doctor donated beds and installed windows throughout the building and for the next year their new school became a temporary hospital. Edmund Rice approved of this move because he was always ready to help where the need was the greatest. The fever raged for a full year and more and it was 1818 before the school was again open to the admission of boys.

Edmund Rice directed the brothers to help as far as possible and to make their premises available if necessary whenever these plagues occurred. In Thurles, Dungarvan and Limerick, the brothers gave over the schools to become emergency wards and even their houses were used for patients and medical offices. If school work was continued, it had to be done in temporary accommodations elsewhere. The Brothers had also to find temporary lodgings for themselves. The Brothers found time to assist the doctors and nurses in attending to the victims. Brother Virgilius Jones who had lived with some of the Limerick Brothers recorded the following: "From the details which have come down to us of the labours of the brothers during the epidemic in Limerick, it is clear that no pen could do justice to their charity and patient endurance, in all their ministrations. All day long they were to be seen at the bedside of the sufferers attending to every call, to soothe every pang — using every appliance possible to keep down the burning fever or to ease their tortured limbs. The night also found the Brothers at their post, the silence of which was only broken by the heart-rending cries of the sufferers, calling aloud for the Brothers by their names, and whose very presence at the bed- side seemed to have a soothing effect." (Normoyle) He goes on to describe the conditions of the locations, the entrance way crowded with coffins awaiting burial and with coffins waiting for corpses. The six month siege of cholera in Limerick found 525 patients being cared for and out this number there were 225 deaths. Edmund proudly praised the work of the Brothers in a letter he wrote to Mother Austin McGrath in Dungarvan, June 12, 1832: "Our Limerick Brothers are attending the poor cholera patients in the Hospitals. They give a frightful account of the ravages it is making there.... Numerous conversions amongst the Sick, in so much as one of our Brothers in a letter we received yesterday calls the Cholera a Blessing instead of a scourge."
Congregation under threat of extinction

According to Garvan,

Give to the Poor In Handfuls

, 1996: A great threat to the very existence of the new congregation was the passing of the Catholic Emancipation Act in 1829. This granted freedom of religion to Catholics but in a strange twist it threatened the existence of religious orders. It seemed that the Christian Brothers were about to be suppressed despite the assurances of Daniel O'Connell. Edmund was told by the Duke of Wellington that the Christian Brothers existed contrary to the law. In a downcast state Edmund tendered his resignation to a meeting of the Brothers, but they would not accept it and asked him to continue on, which he did. The law of suppression was not enforced and the Brothers survived even though no novices entered in I829. Edmund was not foreign to being depressed for he wrote to a friend: "… tell them that for the last (few) days I was a good deal occupied, and what was worse that my spirits were for the most part as low as ditch water." However, he also believed in casting "all your cares into the arms of divine Providence" and that is what he himself was doing during these taxing times for his young congregation.

The fact that some Brothers were not able to get sufficient food to sustain them, because of their poverty, forced Edmund to consider the entry of his schools into the National Board system. In this system they would receive financial aid but they were not permitted to have religious emblems obvious except during the religion period. The saying of prayers was also greatly restricted. After a period of trial Edmund and his Brothers could not come to peace about their involvement with the National Board and withdrew, confident that the people would come to their aid. This is precisely what the people did, even though at times the Brothers' faith that they would survive was stretched to the limit. These Brothers had been spiritually well prepared by Edmund. He gave them as their motto a scripture text from the Book of Job which had such deep meaning for him in his life: "The Lord has given and the Lord has taken away; blessed be the name of the Lord forever." Job 1:21.
Internal dissension

According to Garvan,

Give to the Poor In Handfuls

, 1996: Perhaps an even more insidious threat came to Edmund personally through the dissidence of some Brothers who tried to undermine his work and his vision. Some even claimed St. John Baptist de la Salle as their founder, and not Edmund Rice. Edmund's successor as Superior General had his painting done holding a book of the life of John Baptist de la Salle which he himself had written. This painting can still be seen in the Christian Brothers' Generalate in Rome. This was an extremely painful period for Edmund as he tried to get his congregation on a sure footing which would enable it to carry on for future generations what he had founded it for. The demands made on Edmund, now an elderly man, were severe, and he wrote: "I had a letter from Br. Francis on which I am obliged to set off for Dublin this evening. It's well if this work does not kill me." Of course all of this suffering was the continuing pruning by the Lord to deepen Edmund's love of God and his neighbour.
Expansion of the System
According to Houlihan, Overcoming Evil With Good, 1997: In 1824 a Royal Commission was set up to look into the condition of the primary schools for the poor in Ireland and England at the request of the Irish Bishops. Besides visiting many of the brothers' schools in Dublin, Waterford, Cork and Limerick, the Commissioners questioned Brother Bernard Dunphy in depth, concerning the brothers' schools. As a result of the final report made by the Commission in 1825, the Christian Brothers became better known throughout Ireland and England.
When the report was made public, English priests wanted the Brothers to open schools in their country so Edmund Rice went to England (Preston) in 1825 to look into the matter. Invitations for the brothers to open schools came from as far away as the United States, from Newfoundland and from England. Within a short time the brothers would have six schools in England as well as a Novitiate to accept trainees for the Congregation. Such good news buoyed up the drooping spirits of Edmund Rice and the brothers who were struggling to meet the financial and other challenges they were facing at that time. They began to realize many of the problems were nothing more than "growing pains."
Yet one of the personal sorrows of the Founder just then, was the experience of seeing some of his first companions leaving the congregation. Some of these men had been with him in New Street in 1802 and helped him found Mount Sion. Some of them had pioneered in Carrick-on-Suir, in Dungarvan and in Dublin. Of the first nine men who joined Edmund's community between 1802 and 1808 only three persevered, but to offset that experience, there were the stalwarts who stayed with him—Austin Dunphy, Peter Ellis, Francis Grace and Joseph Murphy, to name a few. The Founder showed his wisdom and his ability to judge his men when in 1814 he appointed Austin Dunphy and two other brothers, trustees of his estate. Edmund signed over all his holdings to these men and was actually taking a risk, since if any one of them were to leave the brothers, the property would still be in his name as a trustee and he could legally do with his share of it as he pleased. Edmund had shrewdly sized up these brothers while he lived with them in Mount Sion. All three persevered as brothers. So there were joys and sorrows all through his life and Edmund being a prayerful man also trusted in a provident God. The cross was always there, but so too was the resurrection, just as it was with Jesus.
With Edmund as Superior General the brothers had embarked upon a new kind of religious life that was unfamiliar territory even to friendly bishops and pastors. After all, the brothers were laymen and the clergy in Ireland were not familiar with an independent group of unordained religious men. While Archbishops Troy and Murray of Dublin were convinced that this was the best way to proceed, there were others in the episcopacy who were strongly opposed to a papal congregation of 'laics' within their dioceses. This was a totally new concept in the Irish Church and other Bishops also had trouble accepting it. Brother Rice would have many unpleasant dealings with Bishops who felt this way. His becoming the first elected Superior General under the terms of the Brief issued by Pope Pius VII would also be a source of division within the congregation. On the other hand, he now had more freedom to place brothers in various dioceses and he had a better grasp of expanding his school system both within and outside of Ireland.
Pastors and bishops who heard of Edmund's successful schools began to invite him to establish his system in their territory. After several previous petitions, a committee of Catholics of Preston, England finally obtained the promise of brothers for their school. Edmund did not rush into acceptance of the invitation but characteristically hammered out all the details required before he would sign the contract. The Founder needed time to consult with his brothers, who by this time had much valuable experience in operating schools. The specific terms of what the brothers would be able to do as well as the financial arrangements were spelled out and the Founder made it quite clear that "it is distinctly understood by us that the arrangements of the school and the mode of teaching the children are to be left entirely to our Brothers." The terms as modified by Edmund and his brothers were accepted by the Preston Committee and in October, 1825, Brothers Patrick Joseph Murphy and Aloysius Kelly became the first Christian Brothers to teach in an English school. Others would take up work in Manchester, London or Liverpool within the next few years. English candidates for the brotherhood were trained in Ireland until 1840 when an English Novitiate was opened in Preston. Six schools were established in England during Edmund's administration.
The next invitation to the Founder for brothers came from Roman authorities who were anxious to have Catholic teachers in Gibraltar to offset the work of Methodists who were proselytizing the children of Catholics living on this peninsula. The request was made through Archbishop Murray of Dublin who encouraged Edmund to accept this request from the Cardinal in charge of the Congregation for the Propagation of the Faith. In 1835 two brothers left for the garrison town which was governed by the British but inhabited largely by Spanish speaking citizens. Archbishop Murray showed his interest in the mission by paying for the brothers' traveling expenses and equipping them with books and supplies which he paid for from his own pocket. The Gibraltar enterprise captured the interest of all the brothers as it was the first distant foundation they were to make and because Rome had invited the brothers to undertake this assignment. Brothers Patrick O'Flaherty and Thomas Anthony kept in close touch with the Founder and sent back to Ireland many letters describing their experience in Gibraltar.
Challenges and difficulties were not limited to the expansion of the Institute outside of Ireland. Archbishop Murray was anxious to have a Christian Brothers' school in his Cathedral parish. The prelate was already trying to build and pay for a Cathedral church and was not in a position to take on the financing of a school. Edmund had discussed with the Archbishop of Dublin the possibility of a model school for the training of novices and teachers as well as a central house for the General Council. Dr. Murray was delighted with the prospect of a free school for the poor of his parish and gave his blessing to Edmund Rice's plans. To find a site for this school would not be easy. There was still an anti-Catholic sentiment among the well-to-do Protestants of Dublin, so Bryan Bolger, a layman and an architect, was asked to scout around for land that would be suitable for the school?" The search was on for a few years and Edmund was rather worried that this project would never get off the ground. He wrote a Christmas letter to his friend Brother Patrick Corbett in Carrick-on-Suir: "We are still disappointed in getting the ground to build a house and school in Dr. Murray's parish and all the brothers have been written to, to offer prayers to Almighty God, and in a particular manner during the Christmas retreat to procure a suitable place for the purpose." It was not until 1828 that Bolger found a property that would be perfect for Edmund's plans. Details of the foundation are recorded stating: "On March 10th, 1828, Samuel Scott, Esq. gave lease to Bryan Bolger Esq., of a plot of ground adjoining the North Circular Road." Edmund Rice fenced in the plot which was simply an open field. Bryan Bolger was asked to draw up plans for the necessary buildings: residence, novitiate and school. For the time being, Edmund, his assistants and the novices moved into the Hanover Street facilities where the brothers had lived since 1812. This temporary arrangement would last for three years until the new buildings on North Richmond Street were ready for occupancy in 1831.
While all this church and school building was going on in Dublin, the Catholic Association with Daniel O'Connell as its leader was being formed. It started in 1823 and was taking the country by storm until the Emancipation Act was passed. "The core of the Association was to be the upper class Catholics but O'Connell was also thinking of incorporating poor Catholics who could not pay the heavy dues." He devised a plan wherein people paid a rent of a penny a month to be members and he solicited the help of parish priests to collect the rent. The Catholic Association, although principally interested in obtaining legal rights for Catholics to bury their dead in Catholic cemeteries with a priest in attendance, also advocated setting aside funds for Catholic education. O'Connell took a personal interest in the school being planned by Edmund Rice and was determined to see a portion of the Catholic Association's Education fund going towards what he considered to be a noble undertaking. The Association during these years brought the Catholics of Ireland together into a body pledged to make Ireland a nation. "O'Connell indeed was the life and soul, the creator and sustainer of the whole movement. Without his enthusiasm, it would never have existed; without his guiding hand, it would have run into illegal courses, and have lost it influence."(Dunlop)
With Daniel O'Connell on his side, Edmund Rice looked forward to both moral and financial support for the new school. The Catholic Association gave £1,500 of the £5,000 needed to erect the house and school. Daniel O'Connell gave the dedicatory speech when the cornerstone was laid on June 9th, 1828. 100,000 people were in attendance at the ceremony. In his speech he referred to Edmund Rice as "my dear old friend, the Patriarch of the Monks of the West" and he thanked him and his disciples on the part of Ireland for the noble work they were accomplishing. Although Edmund had named the new institution "The Model School," later to be known as '"The O'Connell Schools." It would be three years before the first pupils could be received and before the brothers could move into their Generalate and Novitiate and it would be more years again before it was financially stable.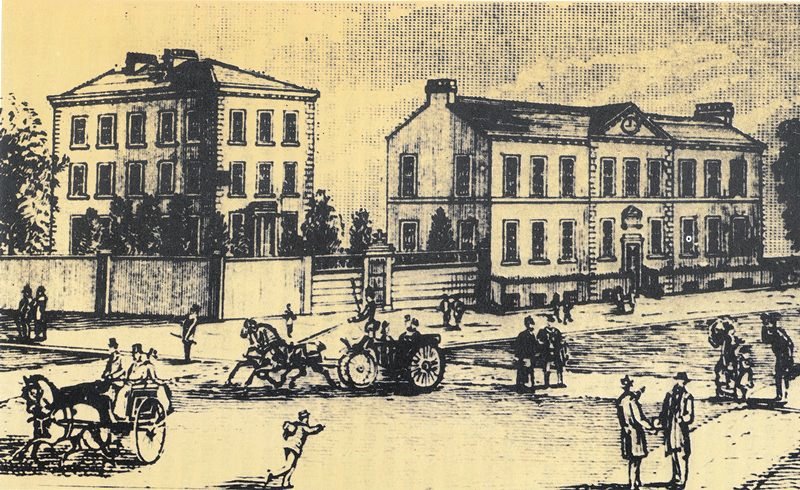 Perhaps no single institution established during Edmund Rice's administration was the source of more concern and worry to the Founder and his brothers. The school itself was a great success educationally almost from the beginning but obtaining the funds to support it and the novitiate as well as the community of brothers was a major challenge to Edmund during his last years. He was 66 years old when the cornerstone was laid and 69 when the school was open for business. In 1838 he wrote his last will in his small room on the second floor of the residence he had built. He turned over all of his assets (and his bills as well) to his trustees, Brothers Austin Dunphy, Francis Thornton and Joseph Murphy. He made them promise that they would pay the debts from whatever interest and profit accrued to his investments. It would be years before the O'Connell school would be financially stable and the condition would cause much tension within Edmund's congregation. He, experienced business man that he was, could not solve the problems associated with this project while he was in office and it would be well into his successor's term that the North Richmond Street property was out of danger. Edmund Rice had thousands of Masses offered for the successful conclusion of these problems. The worries took their toll on his aging body. Even after his resignation as Superior General in 1838, the worries followed him into his retirement in Waterford. For a while it looked like the school would go into receivership but fortunately that did not happen. Edmund's house and school on North Richmond Street in Dublin are still in operation after 165 years.
Edmund's last days
According to Houlihan, Overcoming Evil With Good, 1997:Edmund retired to Mount Sion in 1838 where he was quite content to withdraw from the Institutes business activities that had occupied him for so many years. He had full confidence in Austin Dunphy and the other brothers whom he appointed to manage his accounts. One of the responsibilities that he maintained for as long as his health permitted was to perform his duties as administrator of the charitable trusts in which he still had membership.
At first he made short visits to the brothers at Dungarvan or Carrick-on-Suir and even as far away as Limerick and Ennistymon. As late as 1840 he went alone from Waterford to Dublin on business he had with the Commissioners of Charitable Bequests. He cannot have been too feeble if he were able to make that 30 hour difficult journey by himself. Br. David Fitzpatrick says that "all the evidence we have goes to show that he was able to go on journeys up to the time he was eighty years of age." He loved the company of his brothers — that is why he made these tiring trips to their communities. It finally became necessary for him to give up these visits because of his age and poor health. For the last few years of his life, he had to be satisfied with letters from the brothers and other friends or the occasional visits when brothers came to Mount Sion for retreats or for business with the General Council.
The trustees of his estate often came to Waterford for meetings and this would be an occasion for them to consult with Edmund, if necessary, but also just to spend some time with him. This cheered him up because they were all close friends of his and brothers for whom he had great respect.
Edmund became quite ill in December of 1841. It looked like his death was imminent. The Superior General wrote to all the communities on December 31, 1841 to inform them of his condition and to ask for prayers. "He has no pain or uneasiness but great weakness which confines him to his bed and, it is feared will end in his death." This turned out to be a "false alarm" since Edmund recovered and would live for another two years.
Less than a month later, Edmund was again involved in business matters and he was in touch with his friends. He received a letter from Brother Ignatius Kelly on January 24, 1842 which was an answer to one Edmund had written him a few days previously. The letter contained information that would bring the Founder some good news. "I am happy to tell you that... under Mr. Bolger's will... Dr. Murray has signed the paper which yourself and Br. B. Dunphy signed last year appropriating the residue for the purposes of the Institute. This is of great importance to us as it strengthens our hands against the Commissioners of Charitable Donations. Of course you don't trouble your head about any of these temporal affairs now, but I know you like a bit of good news." This is a valuable letter because it shows that Edmund Rice was able to write letters and attend to substantive business matters in 1842. By June of this year, Edmund's mental powers rapidly deteriorated but even then he had his moments when he was quite lucid.
The novices and young brothers who were at Mount Sion were frequent visitors to Edmund's room during the last years of his life. When he was unable to walk, they pushed his wheelchair for him as they walked through the garden on the property. Years later many of these brothers wrote their memories of their early years in the Institute and mentioned the talks they had with the Founder and described their experiences with him. Brother Stephen Carroll, a young man whom Edmund had invited to become a member of his brotherhood in 1835, wrote a lengthy memoir of the Founder fifty years later in which he included his reminiscences of his association with Edmund Rice at the North Richmond Street Novitiate and then at Mount Sion. He writes: "I was not long in the Novitiate when I got charge of the Superior's room. I was, immediately after 5 a.m., to light his candle for I must say he was remarkable for his early rising and strict attention to his religious duties. He always had his meals with the community and always fared no better than others. After breakfast each morning, he had hot water left him by me, to whom he always spoke with much kindness. And when the morning duty was past, his room was made up and this finished matters this way for the day."
Three years later, Brother Stephen was again in community with the Founder, this time at Mount Sion in the first years of Edmund's retirement. On several occasions, Edmund said to him: "Pray, Brother Stephen, that God's will may be fulfilled in me." This statement made a profound impression on the young brother that in spite of his advanced age, the Founder was concerned about his resignation to God's will.
For the first few years of his retirement, Edmund Rice, although feeble, managed to visit the class rooms of Mount Sion, since he loved to be with the children in the lower grades. He liked to see their work, and the brothers made it a practice to invite him into the various rooms whenever he came into the school building. "On one of these visits to the school...I got him a chair, brought some of the copies the boys were writing for his inspection — he generally passed a few words of encouragement — he was always thankful for any little service we could do for him." (Normoyle) When the weather was good the young brothers took him on short outings and on more than one occasion the Founder fell out of the wheel chair into thorny shrubs because of their clumsiness or lack of skill, but he did not complain. He would smile and thank the poor novice who was responsible for the mishap. One of them remembers that "...his politeness was of the genuine kind, welling from the heart, for he meant what he expressed."
When Brother Edmund was finally confined to his room, the novices came in to read to him from his bible or from the works of St. Teresa of Avila. These were his favourite books. At times he was able to slowly walk around the room with the help of one of the young brothers or a nurse. Towards the end he remained in bed drifting in and out of a semi-comatose state. One of the last young brothers to see him alive was Brother Stanislaus Hyland. He wrote: I was sent to Waterford in 1844, to finish my Novitiate and prepare for my Profession, and there was the Founder, my revered Superior, fast drawing to an end. Mine was the last hand, I think, that he shook in friendship on this earth. I had just returned from St. Patrick's branch schools and I at once ran up to see him. He clasped my hand in his, now clammy before death....I disengaged my hand from his grasp, and he awoke and said to me "Good bye, and God bless you, my child". He died the next morning." (Burke)
At 4 a.m. of August 29, 1844, his nurse rang the bell to summon the brothers to his bedside as the Founder's breathing became very raspy. Even at that moment, typical of the man, he was able to thank her "for what she had done for him by shaking hands with her and blessing her." This was the beginning of his last agony. "With heavy breathing, which became every moment more oppressive, and increased in a few hours to a distressing rattle and a heaving of the chest, but without contortion or convulsive movement. Respiration became extremely difficult, and between eleven and twelve o'clock, with a deep sigh he breathed his last: the writer was present during the time and witnessed his expiring breath." (Hearn) The Mount Sion brothers were at his bedside when he died as was Father Fitzgerald, the brothers' chaplain. Bishop Foran of Waterford had visited him often during his last illness and anointed him.
The people of Waterford mourned for him as one of its most noble citizens. A simple funeral Mass and burial service were held at Mount Sion. Bishop Foran officiated at the rites which were very much in keeping with the low profile that Edmund Ignatius Rice and his brothers were wont to observe. The Bishop and civic officials wanted a much more public ceremony to do justice to such a great man. At a special meeting of local leaders, they unanimously decided to hold a public funeral within a month in order to give all the people of Waterford an opportunity to say farewell to Edmund Rice. The public tribute to Edmund Rice was announced by the bishop to take place in the Cathedral on October 1.
In the meantime newspapers in Waterford and elsewhere in Ireland and abroad reported the news of Edmund Rice's death. Editorials and articles were loud in their praises of the Founder of the Christian Brothers and the Presentation Brothers. A Waterford newspaper announced: The death of a venerable, a good, and in the best sense of the word, a great man—a man of powerful mind, of vast knowledge of human nature, of a comprehensive grasp of intellect, of undaunted courage, of irresistible perseverance of unbending integrity, of pure piety, of immense charity - Edmund Rice, the Founder of the Christian Schools — the herald of a new age to Irishmen in the way of instruction, the harbinger of virtue and of blessings, the benefactor of his species, not only in Ireland but in whatever quarter of the globe the present generation of the humbler classes of our fellow-countrymen have penetrated, because to Mr. Rice is mainly attributable the credit for whatever intellectual training they enjoyed.
Every brother in the Institute was invited by the Superior General, Paul Riordan, to come to Waterford on October 1, 1844 for the public funeral of the Founder. Fifty of the brothers did come — from England and from around Ireland — to be present as Waterford's grateful citizens paid their final tribute to Brother Edmund Rice. Bishop Foran celebrated the Mass and invited all the guests to a dinner following it. He paid for this from his own funds. The Cathedral of the Holy Trinity was filled to capacity that day as the rich and the poor, churchmen and laity, pupils and their parents, Catholics and Protestants, the great and the ordinary turned out to show their love, appreciation and reverence for the Founder of the Christian Brothers. In the flowery oratory typical of the times, sermons, tributes and editorials were delivered with sincerity and appreciation not only in Waterford but full accounts were printed in the newspapers of Dublin, Clare, Limerick, Galway, Cork, Preston, London, St. John, (New Brunswick), Cincinnati and Boston. The Waterford committee that planned the solemn public funeral for Edmund Rice, in subsequent sessions provided for a suitable monument to perpetuate his memory.
By April of 1845 a new wing was added to Mount Sion containing a large chapel and another classroom. This two story structure was dedicated to the memory of Brother Edmund Ignatius Rice and stands today attached to the brothers' residence and next to the bake house and tailor shop built by the Founder and the new Blessed Sacrament Chapel within which the remains of Edmund Rice are presently enshrined. Now, more than 150 years after Edmund's death, the words of a Quaker friend seem to have been prophetic: "Mr. Rice is not dead! Yes, he lives...in the noble band of Christian workmen to whom he has bequeathed his spirit and his work." Mount Sion, the first of his schools, without interruption has continued the work that Edmund envisioned and began in 1802 for the people of Waterford.
According to Garvan, Give to the Poor In Handfuls, 1996: After being confined to his room for the last two years of his life, Edmund was cared for by a nurse, Katie Lloyd, a sister of Brother John Lloyd, a lay-brother. A novice, Brother Stanislaus Hyland, was living at Mount Sion at this time, and on 28 August, 1844 returned from St. Patrick's branch school in the afternoon. We have his own account of his last meeting with Edmund: "I at once ran up to see him. He clasped my hand in his, now clammy before death. I noticed his grasp growing unconsciously closer and a doze seemed to come on him. His eyes were glassy. I was expecting the bell to ring for dinner and I said aloud to him, "Good bye, sir, the bell will ring soon." I disengaged my hand from his grasp, and he awoke and said to me, "Good bye and God bless you, my child." He died next morning" around 11a.m. after thanking the nurse, shaking hands with her, and blessing her, and wishing that the Brothers would never let her or her family be in want. The Brothers of Mount Sion were gathered around his bed.
Edmund's reputation after death

According to Garvan,

Give to the Poor In Handfuls

, 1996: Although Edmund's final six years on earth were spent away from the public eye, the news of his death resulted in a flood of tributes from persons and institutions at all levels of society. Newspapers in Dublin, Cork, Kilkenny, Waterford, London and Preston, USA and Newfoundland, ran articles on Edmund's life and work.

The Waterford newspapers on the day of burial, recalled Edmund's indefatigable zeal and said he was not only a benefactor of the city but one who was a great example of Christian living. A few days later The Tipperary Vindicatar in Nenagh attributed entirely to the vision and work of Edmund Rice whatever intellectual training the current generation enjoyed. It proclaimed him to be a man of powerful intellect, undaunted courage, unbending integrity, irresistible perseverance and immense charity: generous in giving, but most of all in giving himself. He was a Christian man and Brother in the most perfect sense of those words, a benefactor whose example and achievements would outlive any material monument.

Just a month after his death, Edmund's memory was officially commemorated in Waterford Cathedral. The sermon, given by his confessor, Father Richard Fitzgerald, was to be printed five times before the end of the century. He spoke with confidence of Edmund's enjoying already his reward "exceeding great," and suggested that his audience pray to Edmund, since he belonged to all, had worked for all, and held an assured place in the hearts of the Irish nation. All Edmund's great qualities, he said, had been channelled into charity towards his neighbour and obedience to the voice of God and God had chosen Edmund as an instrument to mediate Gods mercy to the lrish people.

Meetings later in the year called for a monument to be built to commemorate Edmund Rice, but one priest said that the monument to Edmund was already evident in the palpable moral legacy he had left behind him: if you are looking for a monument look around you here! Nevertheless a national appeal was set up in November, 1844, and on 8 September, 1845 the first
stone of the Memorial Chapel of Our Lady of the Nativity was laid by Bishop Foran. Thomas Francis Meagher, Mayor of Waterford, and years later to be acting Governor of the state of Montana, USA, was present and wrote of this occasion: "While I stood a silent witness of the scene, I was almost prompted to exclaim 'Friends, mourners and admirers of a great man, your work is needless! The good, wise and venerable man, Edmund Rice, to whom you this day raise a monument, has anticipated your gratitude and has reared with his own strong hands a monument that mankind shall reverence and heaven shall bless. There is not a soul instructed, enobled, purified in these schools of which he has been the founder that will not be his monument, which neither the rust nor the moth shall consume." On 4 April, I846 the building was consecrated by the bishop. It still stands alongside the bakery and tailorshop Edmund built for his beloved poor.
Edmund Rice was beatified in 1996.